STAY VIGILANT!
Many people will offer their help to you, but not all of them are trustworthy.
If in doubt, turn to the existing official services set up for the reception of people fleeing Ukraine (information below). In addition, several companies in Europe offer free transport for people fleeing Ukraine. You will find the information under this link: : https://ec.europa.eu/info/strategy/priorities-2019-2024/stronger-europe-world/eu-solidarity-ukraine/eu-assistance-ukraine/information-people-fleeing-war-ukraine_en#onward-travel-in-the-eu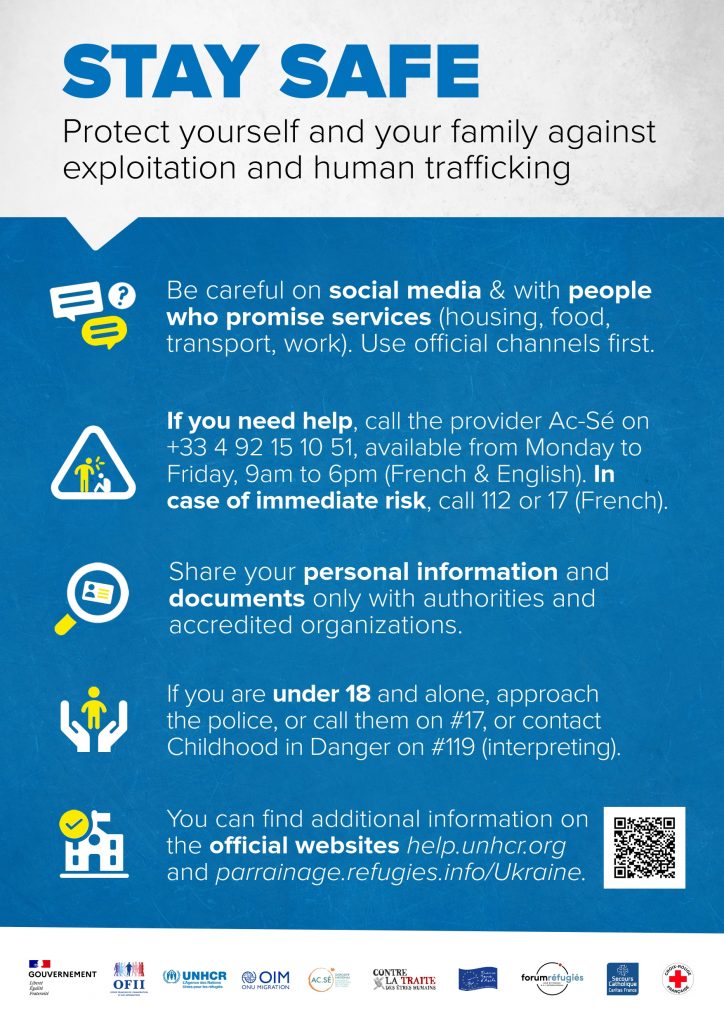 See also the poster STAY SAFE ! in french, in ukrainian or in russian.
>>> Be vigilant!- Protect yourself and your family against exploitation and human trafficking. See also in french, in ukrainian or in russian.
>>> In France, all children are protected from abuse and exploitation. See also in french, in ukrainian or in russian.
For displaced persons in Ukraine, you can consult this page : UNHCR Ukraine – Help for refugees and asylum-seekers
For refugees in neighboring countries, you will find further information and useful contacts on these pages :
For all other countries, you can visit the UNHCR HELP help page : https://help.unhcr.org/
You will also find on this site information concerning:
---
For people who have arrived in France
A welcome booklet is available here.
If you hold a biometric passport, you can regularly stay in France for up to 90 days after entering the Schengen area. Ukrainians who do not hold such a passport must have a visa to stay in France, which will be issued to them free of charge.
If you want to stay in France for longer than 90 days, you can benefit from temporary protection.
If you are :
– Ukrainian national and you resided in Ukraine before February 24, 2022;
– Are not a Ukrainian national but you benefit from protection (international or its national equivalent) granted by the Ukrainian authorities;
– Are not a Ukrainian national, but you hold a valid permanent residence permit issued by the Ukrainian authorities and you are unable to return to your country of origin in a safe and sustainable manner;
– Family member of a person falling under one of the preceding cases (the members of family are: spouse, unmarried minor children, and dependent parents)
You can obtain the status of "temporary protection". You must contact the prefecture of the department where you are, the list of which you will find here. You can find more information, in particular on the rights that arise from the granting of this protection, here.
Ukrainian reception Structure in Paris
If you are in Paris, you can go to the Ukraine reception center where you can be directed to accommodation facilities. You can also meet doctors on the spot, be accompanied in your administrative procedures, and be provided with food and beverages.
Agents from the Paris police headquarters and the French Office for Immigration and Integration (OFII) are also present in the Structure and will be able to register you, issue you an authorization and provide you with a payment card for the ADA (allowance for asylum seekers).
The reception is located at Paris Events Center, 20 Avenue de la porte de la Villette, 75019 Paris (access – Tram 3b, metro 7: Porte de la Villette) in the 19th arrondissement and is open every day from 9 a.m. to 5 p.m.
---
For unaccompanied or separated children
If you are under 18, you have just arrived in France and you are alone or you are not accompanied by an adult responsible for you, you will be sheltered and protected by the relevant French services. You can also ask for help from a police officer who is there to protect you: tell him/her that you are under 18 and that you need help. You can also call #119 for help or the police on #17.
You will find more information on the following link: https://www.immigration.interieur.gouv.fr/fr/Asile/Les-mineurs-non-accompanies-demandeurs-d-asile
---
If you want to travel outside of France