If you need special treatment for tuberculosis, leishmaniosis, Voluntary Counselling and Testing, please see the following Q&As.  
---
1. I have tuberculosis. What should I do?⬇️
If you have tuberculosis, please visit the Centre for Tuberculosis treatment. Treatment is available for free. UNHCR's partners will support you for laboratory and diagnostic tests. Your family can also be tested for free.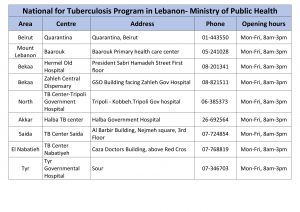 ---
2. I have leishmaniasis. What should I do?⬇️
If you have leishmaniasis, please seek treatment at one of the following hospitals. Medication for leishmania treatment is free of charge. Please call the hospital to make an appointment in advance. You will have to contribute to the treatment fees.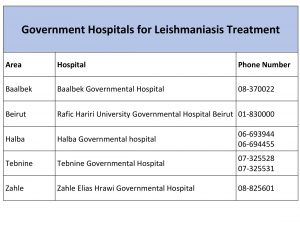 ---
3. I have thalassemia. What should I do?⬇️
ANERA (American Near East Refugee Aid), a non-governmental organization is currently providing medication (Deferasirox 500 mg and 250 mg) for thalassemia patients free of charge through the health centers below.
If you have thalassemia and need this medication, you can apply for this medical assistance by submitting the following documents to the health center during the registration hours mentioned in the image below.
Identification card, such as passport, birth certificate and UNHCR certificate.
Recent laboratory tests results (including Ferritin, SGPT, and creatinine)
Prescription dated within the last 6 months.
📢Attention📢 Please note that submitting your application does not mean that you will automatically receive the assistance and that you will need to wait for the approval to the assistance from ANERA.
---
4. I might have been infected with HIV. What should I do?⬇️
If you suspect you have been infected with HIV, you should immediately go to one of the following centers to receive care. It is important that you get preventative treatment as soon as possible, preferably within 24 hours of being infected.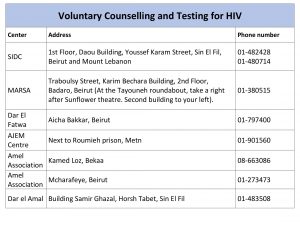 ---
5. I am HIV positive. What services can I get?⬇️
If you require treatment, you must first contact UNHCR health staff, who will give you the necessary information and refer you to the National Center for HIV treatment. Treatment is free as well as the related blood tests. Please request a confidential appointment with the UNHCR Office. You are not required to disclose information in order to seek an appointment from UNHCR health staff for this
You can call UNHCR at📞 04726111.
Please note that all cases are treated with the strictest of confidentiality and that medication is offered for free.
---