Click here to go back to other FAQs.
Click here to go back to Welcome page.
The UNHCR Helpline is a call service provided by UNHCR Jordan which refugees can use to ask any questions or file complaints. It provides information on all UNHCR activities as well as recent updates on procedure changes.
Refugees of all nationalities are welcome to call the UNHCR Helpline, which is available 24 hours a day, 7 days a week in three languages: Arabic, English, and Somali. An Interactive Voice Response system will help you find the answer to your question with a reduced waiting time. However, if you do not find the services you need through the Interactive Voice Response, you will then have the option to be transferred to an agent.
Emergency calls will be transferred to a Helpline agent immediately. Agents are available from Sunday to Thursday, 8AM to 4PM.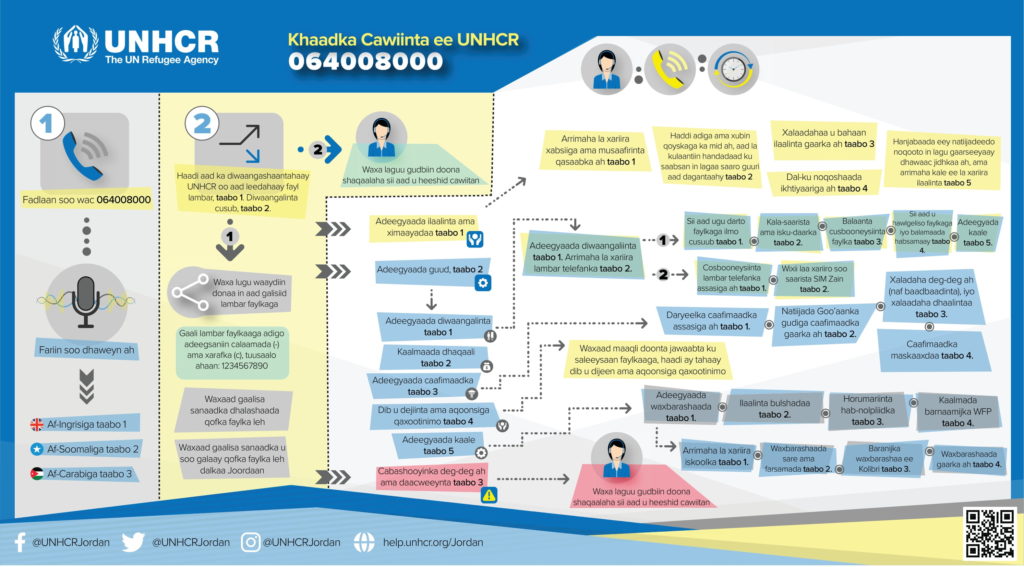 Using the UNHCR SIM Card provided by UNHCR and Zain, you can call the UNHCR Helpline free-of-charge.
If you have not received your SIM card yet, please contact the nearest Zain store