Toll-free UNHCR Counselling Line: 800 012 948 (open Monday-Friday, 8:30-16:30)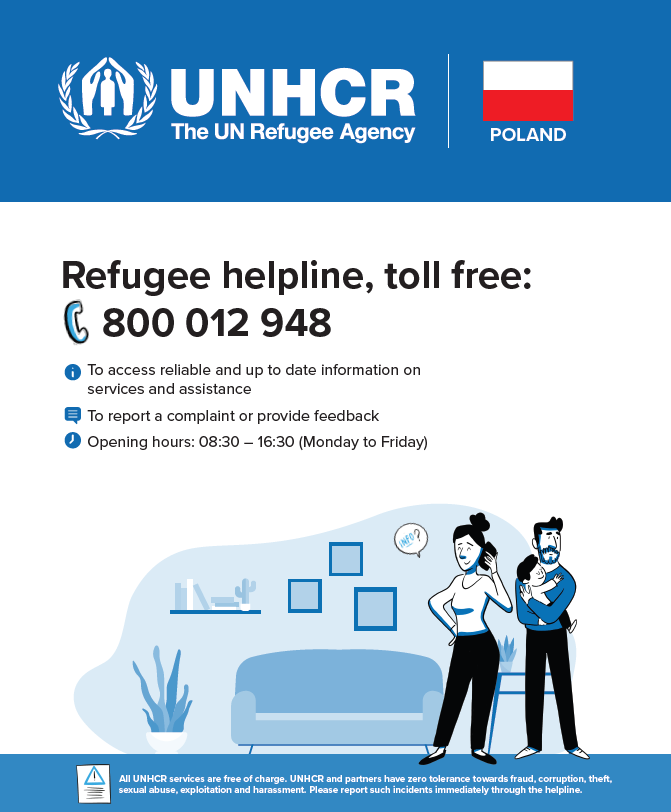 ---
⭐ Youth with Refugees Art Contest – submit your artwork by 30 September! ⭐
We are calling on young people globally to submit a drawing that illustrates the power of including refugees. This year, the best designs will be turned into t-shirts by our partner UNIQLO and sold to support displaced people globally!

are you an amateur or professional artist?
are you 10-30 years old?
do you have a creative idea on how to draw "hope away from home"?

🎨 Submit your creation via www.unhcr.org/youth-refugees-art-contest 🎨
---
If you would like to learn about services available in Ukraine, please visit UNHCR Ukraine Help page
---
Welcome to the 'HELP' website run by UNHCR, the UN Refugee Agency. UNHCR created this website for refugees and asylum-seekers in Poland, their family members, and people who assist them. On this website you will find useful information and web links, including on the following topics:
➡️ How to find help
➡️ Information for new arrivals from Ukraine
➡️ Accessing International Protection
➡️ Services for Recognized Refugees
➡️ Family Reunification
➡️ Reporting fraud and misconduct
➡️ Reporting sexual exploitation and abuse
➡️ COVID-19 information
Information on this website may be only relevant for people who are currently in Poland. Information on this website is general and may not be applicable to your personal situation. If you are looking for information or assistance outside of Poland, please visit the UNHCR Help Homepage.