It is important to register your child at birth. This will give your child better rights and access to services; it prevents statelessness and can provide more safety and security for your child when growing up. Access to for example, education, jobs, opening of a bank account, obtaining a passport or buying a property all require a birth certificate first in order to obtain the necessary documentation.
Steps in the birth registration process for children of foreign nationals
After delivery at a Health Care Facility or Hospital, ensure that the health facility/hospital provides you with a Delivery Note (Birth Notification)
If you are documented (daraye madarek eqamati motabar), approach BAFIA with the delivery note to obtain a Birth Certificate for your newborn
If you are undocumented (faqed madrak), the birth event will be registered at the hospital. Health Centers and hospitals are obliged to provide delivery notes also for children born to undocumented parents. However, in practice you might only be able to acquire the delivery note and birth certificate after having obtained valid residency documents. If you encounter problems obtaining a delivery note or birth certificate for your children born in Iran, you may approach a UHL for legal counselling and advice (see below)
For home deliveries, in addition to the above, two witnesses need to certify the birth event before the competent authority (city council or governorate of your place of residence)
NB! All Health Centers and/or hospitals are obliged to provide a delivery note.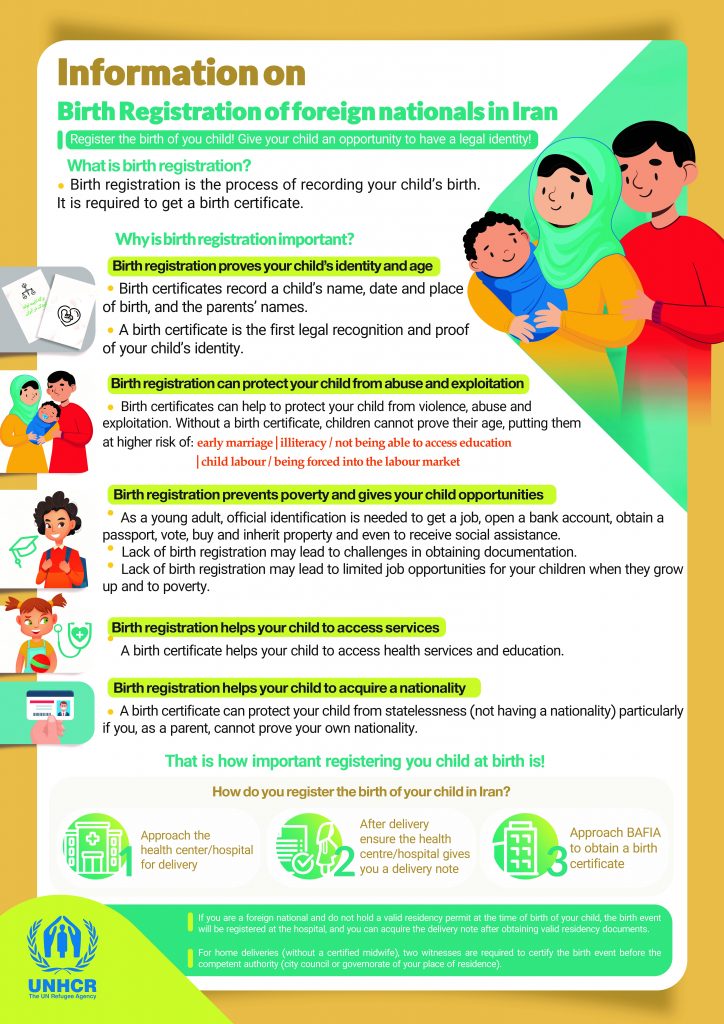 Naturalization
Today millions of people around the world are denied a nationality. As a result, they often aren't allowed to go to school, see a doctor, get a job, open a bank account, buy a house or even officially get married. Stateless people may have difficulty accessing basic rights such as education, healthcare, employment and freedom of movement. With all these challenges, they can face a lifetime of obstacles and disappointment. At UNHCR, we are determined to end statelessness by 2024.
Gender-discriminatory nationality laws are one of the primary reasons for statelessness of children in many contexts. In this light, UNHCR, welcomed the Government of the Islamic Republic of Iran's amendment of the nationality law to allow children born to Iranian women and non-Iranian men to acquire Iranian nationality. The law which was approved in 2019, marked a major step towards reducing statelessness in Iran and around the world.
According to the new law, even children under 18 years old will now be able to obtain Iranian nationality if their Iranian mothers file the application. Those who are 18 and above can apply for Iranian nationality themselves. The law further specifies that stateless persons can also apply for Iranian nationality once they turn 18 if the individual and one of his or her parents were born in Iran.
UNHCR strongly encourages applications, which can be initiated:
For children under 18 by their mothers, here: https://bafia.ir/fa/tabeiat-from-under18
For persons above 18 with Iranian mothers, here: https://bafia.ir/fa/tabiat-form-over18 If you need support or have inquiries, please contact one of our offices in Iran. Contact details can be found here.