UNHCR has launched a tool free Help line to allow IDPs to communicate with UNHCR to request specific information, support and to give feedback on the protection, assistance and solutions offered.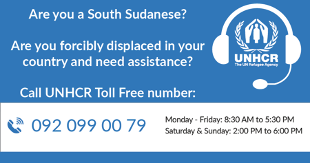 UNHCR's approach in support of South Sudanese who are displaced within their country, also known as internally displaced persons (IDPs), is based on extensive and continuous protection profiling and analysis, protection assistance and durable solution. UNHCR looks at the patterns of displacement, the evolution of the political context and, taking into consideration the community and its rights, works to ensure they are protected and could gradually move towards durable solutions.
To do so, UNHCR:
Identifies the main protection concerns and supports a shared response among different humanitarian agencies, with advocacy and capacity building to the government to assume a central role.
Supports returns and solutions, putting protection at the centre.
Supports peace building, reconciliation and social cohesion.
Further information on IDPs and the Kampala Convention
South Sudan ratified, in 2019, the African Union Convention for the Protection and Assistance of Internally Displaced Persons in Africa, also known as the Kampala Convention. The Kampala Convention is the first continent-wide legally binding instrument for the protection of and assistance to IDPs in the world. In order to move towards the domestication of a law enshrining the principles of such convention, the South Sudan government has consulted with IDPs to develop the text of the bill. While this bill has not been adopted yet by the parliament, the Council of Minister's endorsed a Government Framework for Return, Relocation and Reintegration in October of 2019, and drafted an action plan in 2020. These actions show the government commitment towards an increasing ownership of the IDP situation in the county.
---