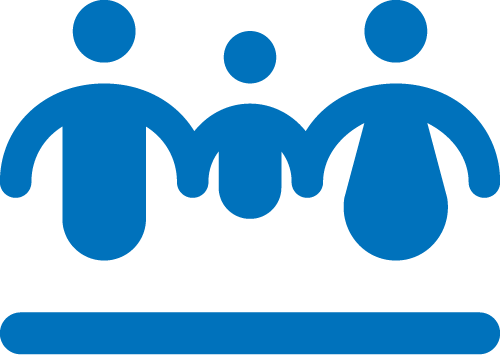 How can UNHCR in Australia help me reunite with my family?
This is how UNHCR in Australia may be able help you reunite with your family:
Help you obtain evidence of registration for family members who are or were registered by UNHCR;
Help bring cases of children or family members in need of extra protection to the attention of UNHCR colleagues in the field; and
Help with contacting colleagues in the field in case issues arise, for example in relation to DNA testing or gaining travel documents.
If UNHCR cannot help you reunite with your family, a legal service will be best placed to give you advice and help with family reunification processes in Australia.
Where can I get help with applying for family reunification in Australia?
Read more on our website about free legal services that may be able to help you with family reunification visas for Australia.
See a list of registered Migration Agents in Australia. These migration agents charge fees which can be high.
What are the visa options for Family Reunification in Australia?
1. Refugee and Humanitarian Visa (Class XB)
Who can apply?
Refugees previously resettled to Australia or others who have been granted permanent protection can apply for their family to be reunited with them in Australia.
How does this visa work?
There are three main categories under this program. All are free apart from the Community Support Program.
Split Family Provisions – for proposing "immediate" family members.
Global Special Humanitarian Program –for proposing both 'close' and 'extended' family members.
Community Support Program – for communities and businesses, as well as families and individuals, to propose applicants with employment prospects (and their families) and to support their settlement in Australia. There are costs for this option.
How long does it take?
There are limited numbers of visas available for refugees each year in Australia.
The demand for family reunification under this Program is very high.
It is likely that there will be significant delays in processing times, or that your visa will be refused because it is not of high enough priority for the Government.
What do I need to know before applying?
The way a refugee arrived in Australia will impact their application for this visa in the following ways:
Whether they are eligible to apply for family reunification under the Humanitarian Program
How fast the application will be processed
Whether additional factors will need to be considered when assessing the visa application
Currently, refugees who arrived in Australia by sea without a visa on or after 13 August 2012 are not able to propose family members for resettlement to Australia under the Humanitarian Program. There are no exceptions, and it affects both adults and children who make proposals.
The Australian Government allocates a maximum number of Refugee and Humanitarian visas that can be granted each year. Currently, there are 13,750 visas allocated for each program year. Typically, only 10% of applications are successful.
Where can I find more information?
Read more information on Refugee and Humanitarian Visas on the Department of Home Affairs website.
To apply for this visa, you will need to complete form 842 from the Department of Home Affairs. This form also includes further information about who is eligible for a Refugee and Humanitarian Visa.
If you are proposing family, it is likely that you will also need to complete form 681 from the Department of Home Affairs.
Read more information about how different parts of Australia's humanitarian program work on the Refugee and Advice Casework (RACS) website. Family reunion information is at the bottom of the page.
2. Regular Migration Streams
Who can apply?
Refugees can also sponsor family members through regular Migration Programs (outside the Humanitarian Program). An example of a visa in this stream is the Spouse visa.
How does it work and how long does it take?
Applying for this visa will cost money.
There may be more spaces available for Regular Migration Programs than the Special Humanitarian Program.
There can be also be long delays in processing times for this option.
Where can I find more information?
Read more information about how to Explore Visa Options to Join Your family on the Department of Home Affairs website.
Can members of my family be resettled by UNHCR?
UNHCR is usually not involved in resettlement to Australia.
The process for family reunification is usually separate to resettlement and is started from Australia in line with Government laws and policies.
Resettlement places in Australia are very limited. Because of this, if your family member's case is being considered for resettlement to Australia, the Government can only give limited consideration to family links in Australia.
If you need more information on whether resettlement to Australia may be possible, you should contact UNHCR in your country of asylum directly. Find the contact details for the UNHCR office of the country you are in.