What is UNHCR's role in South Africa?
The Government of South Africa leads the response to protect and assist refugees and asylum-seekers in its territory. UNHCR, the UN Refugee Agency, provides direct operational support, capacity development and technical advice to the South African authorities. As the refugee agency, UNHCR also coordinates the efforts of UN agencies and partners to support South Africa's refugee response and to avoid gaps in assistance.  UNHCR in South Africa is also active in raising awareness for refugee and statelessness topics and works together with a broad range of partners including NGOs, academia, schools, youth organisations, and businesses. In South Africa, UNHCR has offices in Pretoria and Cape Town. The UNHCR Representation in South Africa is a multi-country office and also covers the following countries: Eswatini, Namibia, Botswana, Lesotho, Madagascar, Mauritius, Seychelles and Comoros.
In South Africa, the Government, not UNHCR, is responsible for processing international protection claims, recognizing someone as a refugee, and facilitating their integration.
This means that in South Africa, UNHCR does NOT have authority to:
Receive and review asylum applications
Issue refugee documents
Influence the outcome of international protection proceedings
Instead, the South African government is responsible for these procedures.
Who do we Help?
Our primary purpose at UNHCR is to safeguard the rights and well-being of people who have been forced to flee. Together with partners and communities, we work to ensure that everybody has the right to seek asylum and find safe refuge in another country. We also strive to secure lasting solutions.
Asylum-seekers: An asylum-seeker is an individual who is seeking international protection, and whose application is still under consideration. In South Africa they are granted with a Section 22 permit by the Government.
Refugees: A refugee is someone who is unable or unwilling to return to their country of origin owing to a well-founded fear of being persecuted for reasons of race, religion, nationality, membership of a particular social group, or political opinion. In South Africa they are granted with a section 24 permit by the Government.
Stateless People: Stateless people do not have a nationality and can struggle to realize their human rights.
How to contact UNHCR in South Africa via phone?
To contact UNHCR in South Africa dial our toll-free Helpline number 📞 0800 100 030.
The Helpline is a free of charge service and operates from Monday to Thursday from 9 am to 4 pm and on Friday from 9 am to 1 pm.
ATTENTION: For all Durable solutions related queries: call on Wednesdays.
Our operators are very busy, so if you don't get through straight away please stay on the line.
If you already have a UNHCR reference number, please make sure to have it with you when calling our Helpline. Also, be prepared to take notes of the information that will be shared while calling the Helpline.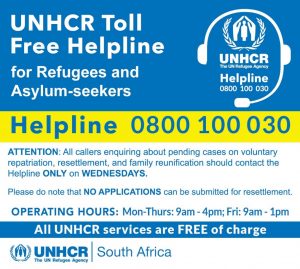 How to subscribe to UNHCR mailing list?
UNHCR South Africa sends regular e-mails on issues relevant to Refugees, Asylum seekers and stateless people such as latest News about documentation, announcements from the Government, services made available to the population and opportunities.
If you wish to be kept up-to-date on the latest information from UNHCR, please fill out your contact details here.
---