UNHCR Multi-Country Office Panama
UNHCR, the UN Refugee Agency, is a global organization dedicated to saving lives, protecting rights and building a better future for refugees, forcibly displaced communities and stateless people.
In Panama, we work with the State to protect refugees and asylum seekers. We also advocate with the government, civil society and private companies so that these persons can exercise all their rights.
You can contact our office to receive guidance about your rights and duties as a refugee, how to start the procedure for recognition of refugee status.
In response to your specific needs, we will make referrals to our partners so that you receive the support need, be it legal, psychosocial, food assistance and/or temporary accommodation, if you have nowhere to stay.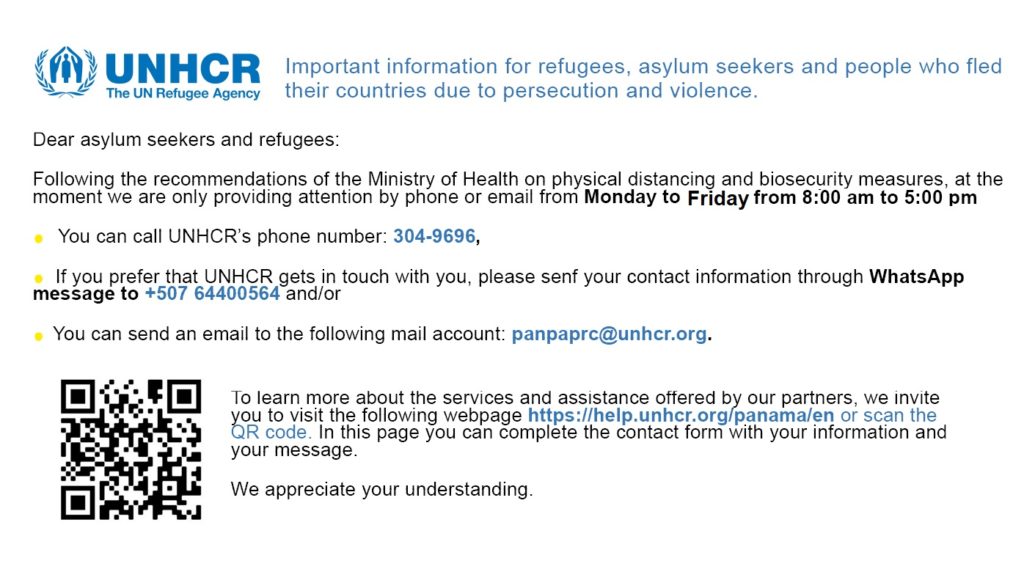 Phone: (507) 304-9696
E-mail: [email protected]
Facebook: UNHCR
Twitter: UNHCRamericas
Website: www.acnur.org/panama
Address: 171 Building, Gonzalo Crance Street, City of Knowledge, Panama, Republic of Panama
Office hours: Monday -Friday from 8:00 a.m. to 5:00 p.m.
How to get there: From the Great Land Transportation Terminal located in Albrook, take a Metrobus that indicates "City of Knowledge". At this point, you must get off at the bus station and there you will board another bus (free) that makes the internal route. You must look at the color of the route and the route you are taking to board the corresponding bus.