Travelling to Ireland
Ukrainian nationals do not require a visa to travel to Ireland. Non-Ukrainian family members and others fleeing Ukraine may however require a visa. You can find out if you need a visa here. Persons covered by the Temporary Protection Decision, if required, must be given an Irish visa or an Irish transit visa free of charge.
People who are entitled to Temporary Protection will be provided with a letter detailing their temporary protection in the State and their immigration permission. This process will be conducted for the majority of arrivals at Citywest centre in Dublin. This permission letter will enable them to access all necessary supports as soon as possible. A welcome team from the Department of Justice will meet those who arrive from Cherbourg, France via ferry at Rosslare Harbour on Mondays, Thursdays, and Saturdays. People fleeing Ukraine who arrive at Dublin airport will be brought to Citywest by bus.
Those who arrived in Ireland prior to 9 March or who were not able to register for Temporary Protection upon arrival, were given an initial 90 day immigration permission upon arrival; people who this applies to should seek to register for temporary protection before this permission expires.
Find information on who is entitled to Temporary Protection here.
Persons needing temporary protection or PPS numbers
Persons who arrived in Ireland after 24 February and did not register for Temporary Protection on arrival should go to a regional hub in Dublin, Cork or Limerick to get a Temporary Protection letter.
Three regional hubs to support Ukrainian families have now been opened in the following locations:
Cork – Cork City PSC and PPSN Centre, Department of Social Protection, Hanover Street, Cork, T12 PX62
Dublin – Guild Building, Cork Street, Dublin 8, D08 XH90
Limerick – 2nd Floor, Riverstone House, 23-27 Henry Street, Limerick City, V94 R7YE
The opening hours for these centres are as follows:
| | |
| --- | --- |
| Monday | 9.15am – 5pm |
| Tuesday | 9.15am – 5pm |
| Wednesday | 9.15am – 5pm |
| Thursday | 10.30am – 5pm |
| Friday | 9.15am – 4.30pm |
For more information on these centres click here and for more information on social welfare supports click here.
These centres offer in-person meetings with people displaced from Ukraine to:
prioritise the acceptance and processing-to-award of applications for PPS Numbers and income supports;
issue TP letters to anyone eligible who has already obtained one.
provide information and referrals to other services
People who are not eligible for Temporary Protection
Those persons who are not eligible for temporary protection should consider their individual circumstances and use the 90 day period to regularise their status either through regular immigration channels (for instance on the basis of family connections) or by applying for international protection.
Official information
For general information on the supports and services available while you are in Ireland please see this website.
For immigration questions for people displaced from Ukraine please see the Frequently Asked Questions document from the Department of Justice.
For accommodation and social welfare concerns please see the Frequently Asked Questions document from the Department for Children, Equality, Disability, Integration and Youth and Citizen's information.

For guidance for parents and carers from Ukraine on supporting the wellbeing of their children see here.
For up to date official information on immigration matters visit https://www.irishimmigration.ie.

For support for LGBTIQ+ people fleeing Ukraine please see here.
Please note the Irish Government is still coordinating a national response and more information will be provided in due course.
For information on your rights in the European Union and travelling inside the European Union please see this website from the European Commission.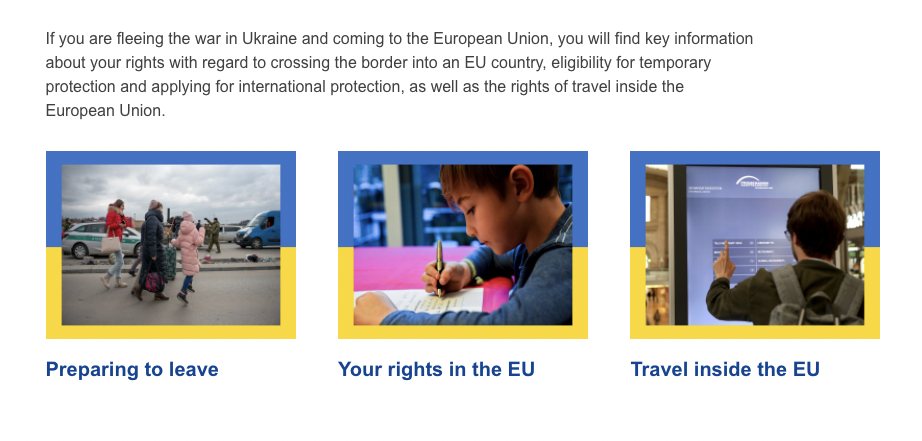 Helpline
Irish Refugee Council
The Irish Refugee Council has an Information Helpline in Ukrainian. You can contact them from Monday to Friday 10.00am to 1.00pm on +353 (1) 913 1528.
The helpline is confidential, independent and gives information. You can read about it here.


The National Student and Researcher (NSR) Helpdesk

This facility is available to assist Ukrainian students and researchers who are seeking to continue their higher education studies in Ireland.

Those seeking assistance can contact [email protected] or call +353 (0)1 474 7788.

More information about the helpdesk is available here.


Women's Aid Helpline
Call (01) 913 1528 from 9am to 1pm Monday to Friday if you are a Ukrainian person in Ireland experiencing domestic violence.
Read more information about services available to you here.