---
***CASH ASSISTANCE UPDATE on 10 November 2020***
Greetings from UNHCR. We wish to inform that there have been changes to the cash assistance programme. From now on, the programme applies exclusively to people registered with UNHCR who face serious risks to their health, physical integrity or circumstances which seriously threaten their family. Due to the limited economic resources available to us, we will only be able to help a reduced number of people.
The identification of persons eligible to receive financial assistance will be assessed on a case-by-case basis by the UNHCR and LWC protection team. This process will be part of the regular case management and follow-up of protection interventions thus you no longer need to call or message the UNHCR hotlines to make a request. The hotlines are only for emergencies.
Please visit our website for more information.
Thank you!
UPDATES TO UNHCR HOTLINE
The new guidelines regarding UNHCR's emergency hotlines are as follows:
Day emergency line (Call: +1 868 296-3881)
Operates from 8:00 am to 5:00 pm for WhatsApp calls and messages
Emergency line at night (Call: +1 868 309-7394)
Operates from 5:00 pm to 8:00 am (from 10:00 pm to 6:00 am only WhatsApp messages can be received).
Please note that the UNHCR emergency hotline number +1 (868) 280-3529 has been discontinued.
---
REGISTRATION UPDATE: RENEWAL OF UNHCR CARDS on 26 august 2020
In consideration of COVID-19 restrictions, UNHCR has extended the validity of all expired UNHCR cards until December 31, 2020. IMPORTANT: The expiration date on your card is not associated with your asylum status; your status with UNHCR for asylum in Trinidad and Tobago remains open regardless of the expiration date on your card. 
UNHCR will contact you via SMS and/or email to schedule an appointment to renew your card. If your contact details have changed or if you have doubts regarding the date of your appointment, please send an e-mail to UNHCR at [email protected] and UNHCR will respond to your query accordingly.  
UNHCR reminds you that only persons and their dependents with a valid appointment will be authorized to enter the UNHCR office.  
---
UPDATES TO GOVERNMENT OF TRINIDAD AND TOBAGO REGULATION on 18 August 2020
On August 18, 2020 the Government of Trinidad and Tobago further updated its COVID-19 regulations. These regulations will continue to be in effect until 12 September, 2020.
In accordance with the regulation, it is advised not to:
Gather publicly in groups of more than 5 people
Participate in group contact sports
Visit bodies of water (beaches, rivers, streams, ponds, springs), public pools, water parks, or amusement parks
Hold or attend public parties
Patronize gyms, theatres, casinos, clubs, religious gatherings; have sit-down meals at restaurants or drinks at bars, or remain on the roadside to consume items purchased from a vendor
Have your children attend physical classes at an educational institution or daycare.
Note that:
Take-away services at restaurants, bars, food courts and street vendors may continue.
Funerals, weddings, christenings, baptisms, or other religious gatherings may continue. However, the gathering must not exceed 10 people.
Electronic educational classes may continue.
Educational institutions may be open for the purpose of conducting the Secondary School Entrance (SEA) Examination, the Caribbean Secondary Education Certificate (CSEC) Examination, the Caribbean Examinations Council (CXC) Examination, the Caribbean Advanced Proficiency Examination (CAPE), or any other exam permitted by the Minister.
All retail business establishments will be open until 10:00 PM.
Bars will be open from 8:00 AM – 10:00 PM.
Public transportation will be reduced to 50% – vehicles will carry half the number of people they are licensed to carry.
Air and seaports remain closed unless permitted by the Minister with responsibility for national security.
Contravening regulations is an offence liable to imprisonment and a fine.
The regulations are available in full in English here.
---
OPENING OF UNHCR OFFICE on 1 June 2020
UNHCR's offices will open to the public on June 1st by appointment only. Should you need to contact UNHCR regarding a matter, please consult the contacts listed below:
For matters regarding your registration appointments, please contact the Registration Centre:
[email protected]
For questions about interviews, please contact:
[email protected]
For urgent matters, please contact any of three hotlines via phone, text or WhatsApp:
+1 (868) 296-3881
+1 (868) 280-3529
+1 (868) 309-7394
For general matters, or matters regarding COVID-19 preparation:
[email protected]
---
EXTENSION OF UNHCR CARD VALIDITY on 04 May 2020
Due to the COVID-19 outbreak, we have extended the validity of expired and expiring UNHCR cards until August 31, 2020. Persons with expired cards will be contacted and given an appointment to renew their card at the office of the UNHCR when possible. People who require the replacement of their card due to theft, loss, deterioration, confiscation or destruction of it should send an email to [email protected] and will be contacted to give them an appointment to receive a duplicate of their card.
---
KEY INFORMATION FROM THE REFUGEE UNIT on 12 April 2020
If you are an asylum-seeker or refugee who reports to the Refugee Unit in the Government's Immigration Division, please e-mail [email protected] one week before the expiration of your Order of Supervision.
In your e-mail, please submit the following:
Scanned copy of the Order of Supervision

Full name

Contact number 

Email Address
If you do not have a scanner at home, here is a list of scanning apps you can download to your smartphone.
---
UPDATES FROM THE GOVERNMENT OF TRINIDAD AND TOBAGO on 8 April 2020
The Government has made some changes to its original regulations.
Unless you work in an essential service, or you are conducting business with an essential service, you must stay home until

April 30, 2020.
For the updated 'Stay at Home' regulation from the Government in English, click here.
For list of essential services translated by UNHCR in Spanish, click here.
Everyone must now wear a mask in a public space.

All retail food, wine and spirits, and catering services must be closed until

April 30, 2020.

This includes dine-in, pickup and delivery. This does not include groceries and markets, who will stay open and still deliver — however, with shortened hours.
BUSINESS HOURS SHORTENED
The Government has changed the business hours of essential services:
D

iscount stores (e.g. PriceSmart), markets, supermarkets, fruit and vegetable stalls, bakeries and "parlours" – must close by 6PM.

Wholesale stores, distributors, manufacturers of food, medicine or other necessities – must stop distributions by 4PM.

Pharmacies – must close by 8PM.

Electrical and plumbing services, hardware stores –  can open from 8AM – 12PM, Mondays to Saturdays only.



These updated regulations will be enforced by the police.
---
PLEASE DO NOT MEET IN GROUPS LARGER THAN 5 on 4 April 2020
The Minister of National Security updated the rule of meeting in groups. Until April 20th, please refrain from gathering in any public place

in groups larger than 5.

 

Please

stay at home

unless absolutely necessary to go outside to reduce the spread of COVID-19.

Exceptions to staying at home can be made for people who work in

essential businesses, or people who need to leave to visit these business places

(for instance, the supermarket, fruit stall, bank, pharmacy, health centre, etc.)

The Government's "stay at home" measures will end on April 15th, 2020, or until further notice.

Read more here.

If you work at an essential business, please carry your employee ID at all times, as well as a note from your employer stating your profession where possible.
MINISTRY OF HEALTH MEASURES
The Ministry of Health hotline is

877-WELL (9355).

Please only call as a last resort after reading the material available on COVID-19. Please see resources below for more information on COVID-19.

Please see the Ministry of Health's list of health facilities

here

. Please note that both nationals and non-nationals are eligible for testing.
PROTECTING YOURSELF FROM COVID-19

Do not place your hands on your face, as this increases chances of spreading viruses from surfaces to your body.

Please wash your hands frequently. See instructions in this video.
---
STAY AT HOME MEASURES on 27 March 2020
The Government will implement stay at home measures effective Sunday, March 29, 2020 at 12:00 midnight until Wednesday April 15th, 2020.
During this period, only essential businesses and service providers will be allowed to operate. These essential businesses and service providers include:
Ministries and staff of the GORTT

Judiciary, industrial court, legal services

Meetings of Parliament, Cabinet, Tobago House of Assembly, committees 

Diplomatic Corps

Health care facilities, pharmacies, hospitals, laboratories, ambulance services, funeral homes; suppliers of medical supplies; dentists, optometrists, physical and occupational therapists, ophthalmologists

Police services, Defence Force, Fire services

Janitorial and maintenance services concerning the provision of health, hospital, water, electricity, fire, sanitation, civil aviation, and telecommunications

Strategic services agency at the Ministry of National Security

Immigration

Utilities (e.g. providers of water and electricity, telecommunications)

Public work facilities: sewerage, sanitation, mains, traffic signal maintenance

Fleet maintenance, 

Detention centres, prisons, rehabilitation centres

Social workers; workers who provide social welfare support to the  socially displaced; elderly, geriatric, convalescent homes, social services, NGOs that work with vulnerable people. 

Support to ensure effective removal of hazardous waste

Financial services under the FI Act (e.g., banking, co-operative societies, credit unions) remittance houses, support for these (ATM machines, cash in transit).

Provision  of essential janitorial andsanitation, and other  services to personal residences (only live-in domestic workers, plumbers, exterminators, electricians etc.)

Private security firms and Estate Constables, Special Reserve Police

Public transport (water and land). However, it will be operating at 50% capacity.

 Logistics services (cargo for the essential sectors) 

Only repair and maintenance service and garages providing direct support for essential services. 

Packaging and bottling.

Postal and shipping.

Aviation and Maritime operations. Movement, storage and delivery on/off ports. Customs and Excise.

Retail services such as Restaurants (only takeaway and delivery), groceries, markets, bakeries, supermarkets, vegetable stores or shops, convenience shops, discount stores (e.g., PriceSmart), wholesale shops, hardwares. Social distancing maintained. 

Workers supporting groceries, pharmacies and other retail.

Inland Revenue, Treasury

The Media

Production of food and care of animals (e.g.,farmers, zoos, veterinary services).

Energy services, oil and gas. Provision: only essential workers for operations.

Seismic research unit, UWI

Hotels registered under the Tourism Act 

Only construction workers engaged in the construction of healthcare facilities 

Kiln and furnace workers inside manufacturing operations, for essential and non-essential services
Please note that this is a summary of the complete list, available here.
These businesses and institutions will not be operating at full capacity. Only

essential staff

will be called to work. 

Additionally, public transport will still be operational, but at reduced (50%) capacity.

The police service will support to enforce these measures. If you are considered essential staff and have to go to work, please walk with your national identification where possible, as well as identification from your workplace. The government has requested businesses to provide a letter for their essential employees to carry.

If you are going to the grocery, pharmacy, bank, or to engage in business from any essential service provider, you may be asked to explain where you are going.

All non-essential businesses will be barred from operation until April 15th, 2020.

The country's borders remain totally closed to both nationals and non-nationals.
As of today, the government has confirmed 66 cases and 2 deaths from COVID-19 in Trinidad and Tobago.
MINISTRY OF HEALTH MEASURES
The Ministry of Health hotline is

877-WELL (9355).

Please only call as a last resort after reading the material available on COVID-19.

Any person who has recently travelled to Trinidad and Tobago from another country is expected to self-isolate for 14 days.

Please see the Ministry of Health's list of health facilities

here

. The Ministry has maintained that both nationals and non-nationals are eligible for testing.
---
***CASH ASSISTANCE UPDATE on 26 March 2020***
Cash Assistance Update:
Please note that the procedure for applying for cash assistance has been affected by office closures due to COVID-19. New information will be issued via e-mail, and appear on this website, once it is available.
Also, please be aware that inaccurate information may be circulating about cash assistance. Each application for cash assistance is evaluated on a case-by-case basis, and without discrimination on the basis of nationality, religion, time period in Trinidad and Tobago, race or ethnicity.
If you have already made a request for assistance, please note that you will receive another communication from UNHCR within two weeks informing you of the status of your request (approved/not approved).
Yours respectfully,
UNHCR Trinidad and Tobago
---
PLEASE DO NOT GATHER IN GROUPS OF 10 OR MORE on 24 March 2020
The Government is discouraging people from gathering in groups of 10 or more. The Government also announced that it would increase patrols to enforce this rule.
Additionally, meeting in large groups can pose a health hazard which may promote the spread of the COVID-19 virus.
Please heed this advice and practice Social Distancing — maintaining at least a 1 metre distance between yourself and someone who is coughing or sneezing.
BE CAREFUL OF INFORMATION FROM UNOFFICIAL SOURCES
The notice in the photo below, which has been circulating on WhatsApp, is NOT an official message from UNHCR or the UN. The website "Oficina Digital" is NOT associated with UNHCR or the UN.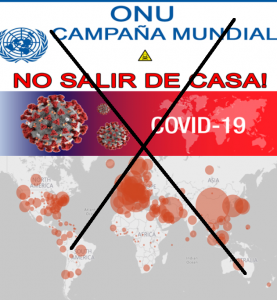 Official correspondence from UNHCR looks like images below, or may be sent via SMS.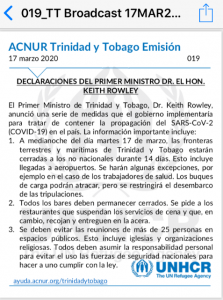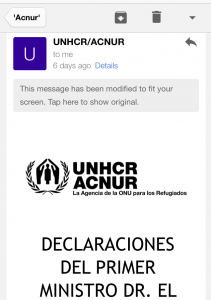 If you click a link from an unverified source, you may be putting yourself at risk.
---
TEMPORARY CLOSURE OF UNHCR OFFICE, PORT OF SPAIN on 23 March 2020
Please note that UNHCR's registration centre, located on the corner of Keate and Pembroke Streets, Port of Spain, will remain closed to the public until March 29, 2020, until new notice. 
COMMUNICATION
For scheduling matters, please contact the Registration Centre:
+1 (868) 2353810
Monday – Friday from 8:00 am to 4:00 pm
Email: [email protected]
For urgent matters, please contact the hotline:

+1(868) 2963881
+1 (868) 280-3529
+1 (868) 309-7394

For general matters, or matters regarding COVID-19 preparation: [email protected]
Please note that UNHCR will be communicating all updates to the situation via e-mail, SMS, and through members of the community. We ask you to continue to pay attention to communication issued by formal channels — including the government, UNHCR, PAHO, and the WHO.
Yours respectfully,
UNHCR Trinidad and Tobago
---
STATEMENTS MADE BY PRIME MINISTER DR. THE HON. KEITH ROWLEY on 16 March 2020
On 16 March, the Prime Minister of Trinidad and Tobago, Dr. Keith Rowley, announced steps the government would take to contain the spread of SARS-CoV-2 (COVID-19). These measures include:
From midnight on Tuesday 17 March 2020, Trinidad and Tobago's land and sea borders will be closed to non-nationals for 14 days. This includes arrivals at airports. Some exceptions will be made, as in the case of health care workers. Cargo ships will be allowed to dock, but crews will not be allowed to leave the ship.
All bars are to remain closed. Restaurants are asked not to have dine-in services, instead offering pickup and delivery.
More than 25 people should not gather in a public space, including churches and religious organizations. Everyone is asked to take personal responsibility to avoid the need for enforcement by authorities.
Schools and institutions of learning will remain closed until April 20, which includes the Equal Place/Espacio de Equidad (https://equal-place.com/) programme. If your child is enrolled in the Equal Place programme, please stand by for additional information from UNHCR.  If your child was scheduled to do the Secondary Entrance Assessment, which was scheduled for April 2, announcements about changes will be made by the government later this week.
The government will ask banks to make deferrals on loan payments and not to charge interest on credit cards. The government will ask landlords to forbear with tenants. The economy may be supported by Trinidad and Tobago's Heritage and Stabilisation Fund if necessary.
The formation of a number of Cabinet Sub Committees, which will focus on education, finance, and the social impact of COVID-19.
Please see the government's official press release here and the official video release here.