UNHCR Slovakia launched its official TELEGRAM channel: t.me/unhcr_slovakia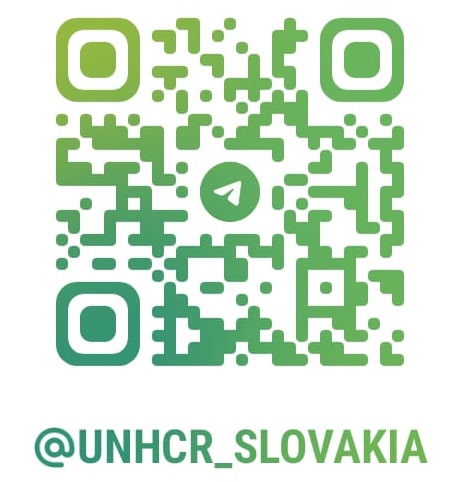 If you are coming from Ukraine

If you are coming from Ukraine, the Slovak Government has established an official website with useful information and important contacts in English, Ukrainian and Slovak:
Information for Ukrainians entering Slovak republic

If you are looking for information on the Emergency Cash Assistance Programme for those arriving from Ukraine, click here.

Other useful information and contacts can be found in English, Ukrainian and Slovak at:
http://www.ukraineslovakia.sk/ or you can chat to this automated chatbot for information on the main steps taken when entering Slovakia: https://helpukraine.sk/
In case you need assistance, please contact UNHCR Helpline:

Toll-Free Line: 0800 22 12 30 (call from Slovak tel. number)
Non-Toll-Free Landline: +421 2 22 11 56 50 (call from non-Slovak tel. number)

Monday to Friday (working days), 8:00 AM to 8:00 PM
If you have questions about relocating to the United States, Canada, or another country:
Any person wishing to relocate to another country must directly consult that country's Embassy websites or information portals about procedures. UNHCR does not conduct resettlement out of Slovakia and cannot help with travel. UNHCR in Slovakia does not conduct refugee status procedures to facilitate relocation.

– For Information from U.S. Embassy in Slovakia: in English
– For Information from the Canadian government: in English, Ukrainian, and French
– For information from the European Union (EU): in English, Ukrainian, and Russian
– For information from the UK: visa information, Homes for Ukraine scheme, and information in English
– Other information for travel outside of the EU, for new arrivals from Ukrainian: in English
UNHCR, the UN Refugee Agency created the website help.unhcr.org/slovakia for refugees and asylum seekers in Slovakia.
The aim of this website is to give information to asylum-seekers and refugees in Slovakia about a wide range of topics, such as the asylum procedure, living in Slovakia and the rights and duties asylum-seekers and refugees in Slovakia have.
On this website you will be able to find information about:
➡ Where to seek help in Slovakia
➡ UNHCR in Slovakia
➡ Your right to apply for asylum and the asylum procedure
➡ Living in Slovakia
➡ Voluntary return
➡ Reporting misconduct related to UNHCR
!!ALERT: Fraudulent calls detected!!
If an unknown caller demands your payment card details and/or internet banking data, or your login details and password, do not provide them under any circumstances!
Please do not hesitate and report the matter to the Police (Phone Number: 158).
UNHCR would never request any form of payment or ask about bank account details.
All UNHCR services are free.
All Humanitarian assistance is free!
Sexual exploitation and abuse are unacceptable behaviours and prohibited for all United Nations and NGO partners' staff members. Your report will be treated with discretion and be kept strictly confidential.