As per the recent decision made by the Government of Jordan, please note that all Asylum Seeker and Refugee Certificates issued by UNHCR to refugees of all nationalities in Jordan are considered valid until 30 June 2022, regardless of the date of expiry printed on the document. Refugees and asylum seekers can access services, such as healthcare and education, without interruption. To date, there is no specific treatment for this virus. However, many of the symptoms can be treated and therefore treatment is based on the patient's clinical condition. Moreover, supportive care for infected persons can be highly effective. To see the Frequently Asked Questions and more information on the COVID-19 vaccine, click here!
Click here to go back to Welcome page.
UNHCR follows instructions of the Ministry of Health and World Health Organization (WHO).
UNHCR Jordan is monitoring the situation and working closely with the Government of Jordan and World Health Organization to take the necessary measures to protect its Persons of Concern.
In order to avoid rumors and fake news, make sure that you receive your information from an official source. Follow UNHCR Jordan on Facebook and Twitter for constant updates. Should there be any further change to the working modality of Registration Centres, and activities UNHCR carries out at Community Support Centre, UNHCR will inform Persons of Concern.
---
Gradual Reopening of UNHCR Registration Centres
UNHCR Jordan is partially opening registration centres in Amman, Mafraq and Irbid for in-person processing of a limited number of persons of concern. For more details, please visit the registration page, or the remote registration page.
---
Remote Registration
For details on remote registration and renewal procedures, please visit the page "Remote Registration".
---
Remote Refugee Status Determination
For details on remote refugee status determination procedures, please visit the page "Remote RSD".
---
Remote Resettlement
---
Access to Healthcare
For emergency medical cases life-threatening health emergencies, you must call the Civil Defense through their unified emergency hotline number 911, who will provide the best advice.
If you experience any symptoms or are in doubt of infection, you need to get in touch with either hotlines of the Ministry of Health (111) or (193) or the Civil Defense Unified Emergency Hotline (911). Please do not leave your home without getting in touch with either hotline to receive the appropriate guidance and counseling on how to seek help.
---
Legal Assistance
For assistance in legal issues and detention, please call:
UNHCR Detention Line: 0796742200
ARDD Legal Aid Emergency Line: 0777387221
Both lines' working hours are 24/7.
At this time, please also take note that the UNHCR Helpline (064008000) will only be operating through its interactive voice response system. We apologize for not being able to answer any calls.
---
Interviews
---
UNHCR Helpline
You may call the UNHCR Helpline (064008000) for any questions. Helpline will be operating through its interactive voice response system to answer most of your questions. You may be referred to an agent in case your question was not addressed. Callers may leave a recorded message and someone will call back as soon as possible for follow up.
Working hours for agents are from Sunday to Thursday, 8AM to 4PM. Interactive Voice Response system is available 24 hours a day, 7 days a week.

In order to avoid rumors and fake news, make sure that you receive your information from an official source. Follow UNHCR Jordan on Facebook and Twitter for constant updates.
---
Dispensing Medication from Ministry of Health
Registered Syrian asylum seekers/refugees and beneficiaries of health care services provided by the Jordanian Ministry of Health (MoH) through health care centres all throughout the Kingdom's directorates, those holding "health cards" for the purpose of receiving monthly medicines for chronic diseases, can contact the focal point in their respective locations from the list in order to coordinate the distribution of medicines, or go to the nearest MoH health care centre, according to the location.
You can find the lists through the following links:
---
Dispensing Medication Through Caritas
Registered asylum seekers/refugees suffering from chronic diseases such as hypertension and diabetes, from all nationalities, can dispense their medications through Caritas clinics, by contacting the focal point in their respective locations from the list in order to coordinate the distribution of medicines. They will need to confirm personal information, phone number and place of residence

The mechanism for distributing these drugs will be announced later.
---
UNHCR-Run Clinics (Caritas)
UNHCR-run clinics operated by Caritas are now receiving applicants on an appointments' basis only. Applicants must get in touch with the nearest clinic to their location from 8:30AM to 2:30PM in order to book an appointment, and that is in line with the precautionary and public health measures in place.
Please take into consideration:
Committing to the date and time of your appointment to approach the clinic
Not having any accompanying persons in the clinic to avoid crowdedness
Getting in touch with the clinic through WhatsApp for cases of emergency hospital admissions and referrals
PS: to protect yourself, those around you and the community, you can install Aman.jo application for smart phones. This application notifies users if they happened to be around any diagnosed coronavirus patient or exposed to the virus, by tracking locations and calculating any overlap occurrences.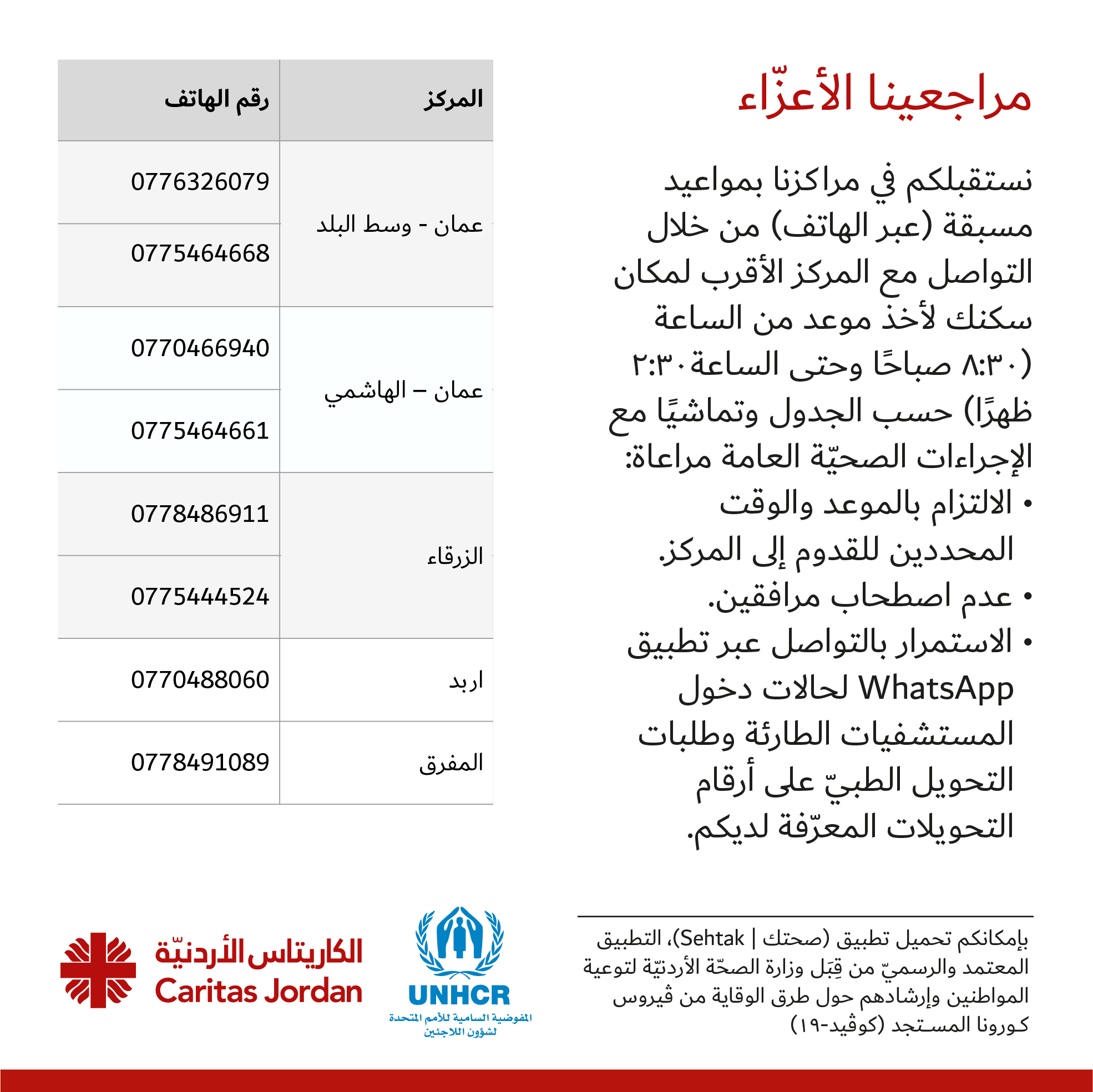 ---
Child Protection & Sexual- and Gender-Based Violence
UNHCR stands against any form of sexual and gender-based violence, which includes domestic violence as well as psychological abuse. Please note that UNHCR remains available to receive calls in this regard through the following numbers, all of which are operating 24 hours a day, 7 days a week:
UNHCR Helpline: 064008000 – operating through Interactive Voice Response and by leaving a recorded message;
UNHCR Irbid Hotline: 0796139584;
UNHCR Mafraq Hotline: 0791420249;
For residents of Zaatari Camp: 0791420242;
For residents of Azraq Camp: 0797174852;
You can call these numbers to report any acts of violence or abuse against children or women, as well as gender-related protection issues. You may also access available services against violence at other agencies by downloading AMAALI application on the smart phone – available on Apple and Android.
---
Labour and Work
UNHCR would like to remind you of the importance to protect yourself, by maintaining a safe space between you and others. If you any questions related to your labour/work, do not hesitate to contact ARDD's emergency hotline 0777387221 or the Ministry of Labour's complaints lines: 0796580666, 0785602666 and the free hotline 080022208.

Work procedures for safety and health protection measures to limit the spread of the COVID-19, by the Ministry of Labour can be found through this link.
Due to the current condition and to prevent the further spread of epidemics, please note that until further notice:
Curfew hours are lifted across the Kingdom;
Civilians

must still

wear face masks when in public;
Anyone who violates the provisions of this defense order shall be subject to imprisonment for a period not exceeding one year, or a fine.
UNHCR would like to remind you to maintain the safe practices as instructed in the general announcements with regards to COVID-19, and to act responsibly, keep practicing social distancing, and wear gloves and masks at all times. Relaxation of the rules does not mean the end of the crisis, nor does it mean that the virus has disappeared.
You are encouraged to take care of your health and that of others by following these tips:
Avoid close contact with people suffering from acute respiratory infections;
Wash your hands frequently, especially after direct contact with ill people or their environment. Wash hands with soap and water for at least 20 seconds. Use an alcohol-based hand sanitizer only if soap and water are not available;
Stay home when you are sick;
Avoid touching your eyes, nose or mouth, as these gateways facilitate infection;
Handle raw meat, milk or animal organs with care to avoid contamination of uncooked foods and avoid consuming raw or undercooked animal products;
Receive the vaccin;
Ensure you are up to date with recommended vaccines.
If you are experiencing fever, cough and difficulty breathing and have recently travelled to or are a resident in an area where COVID-19 is reported, you should seek medical care immediately.
---
COVID-19 Vaccines
Refugees, asylum seekers and anyone living in Jordan are eligible to receive the COVID-19 vaccine. If you experience difficulties, you can call the UNHCR Helpline at 064008000 or the Ministry of Health hotline number 065004554 for guidance.
---
Covid-19 Testing Centres
The Ministry of Health announced the following testing stations for COVID-19 across the Kingdom. Tests are free-of-charge for Jordanian nationals, residents in Jordan, and refugees. These stations are operating every day, except for Fridays.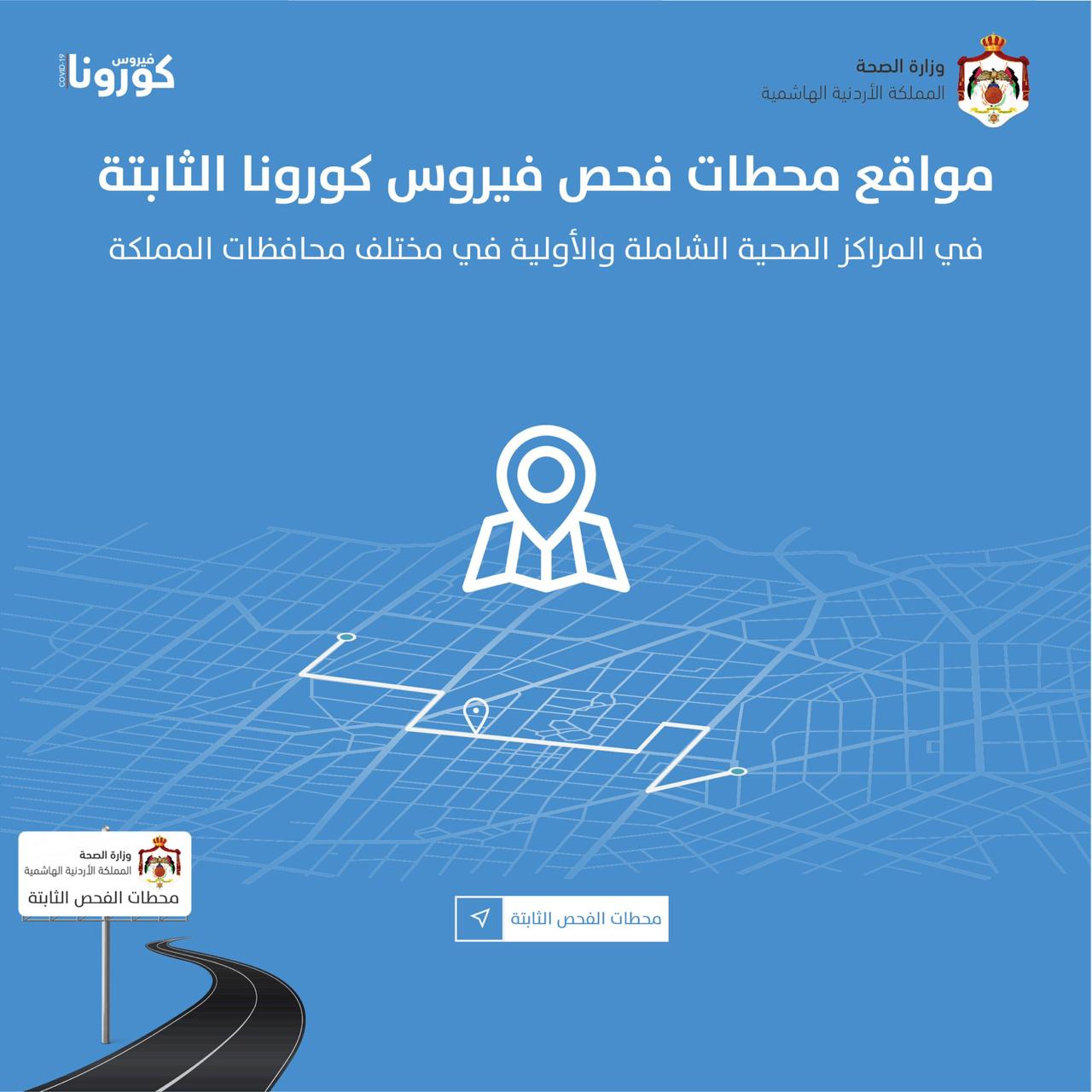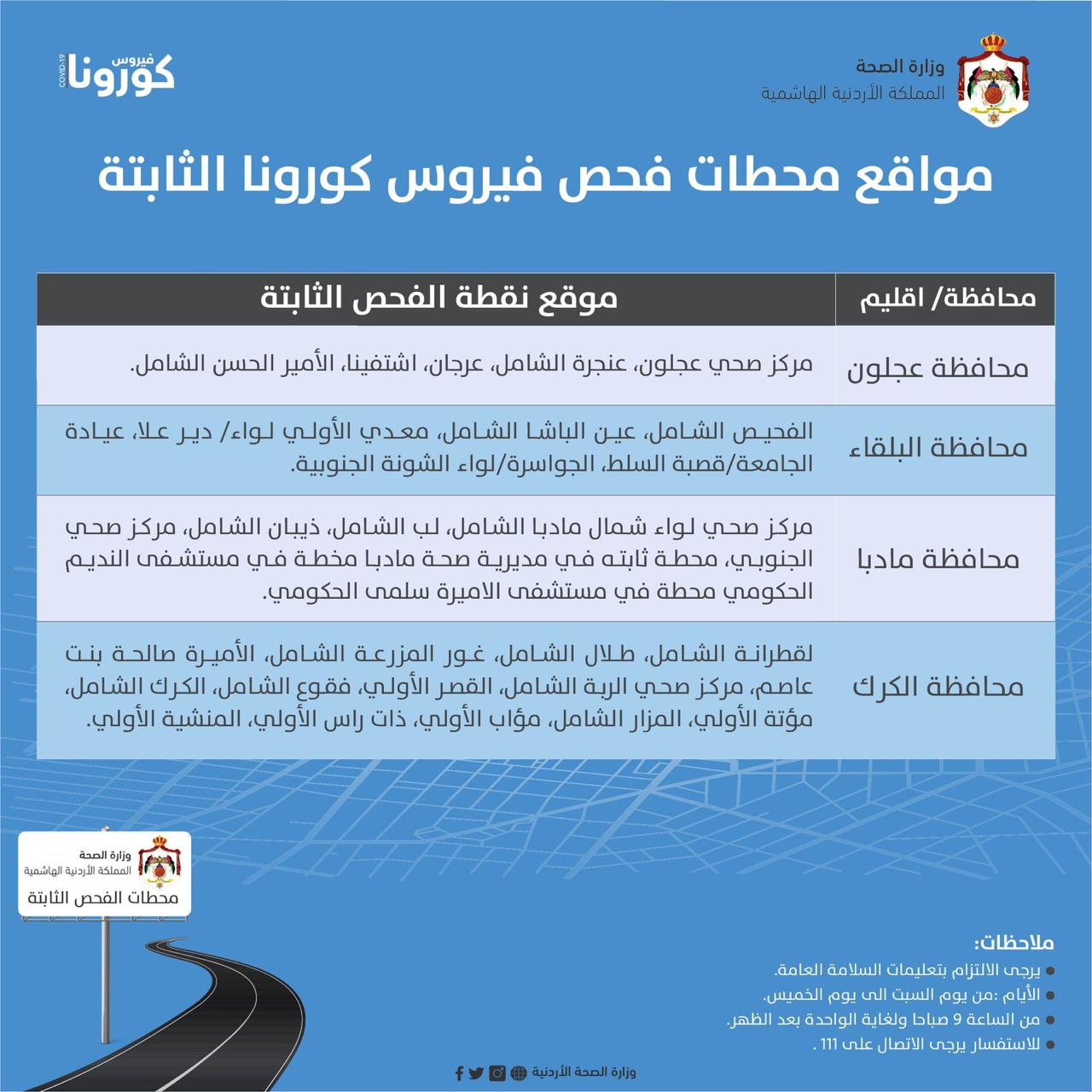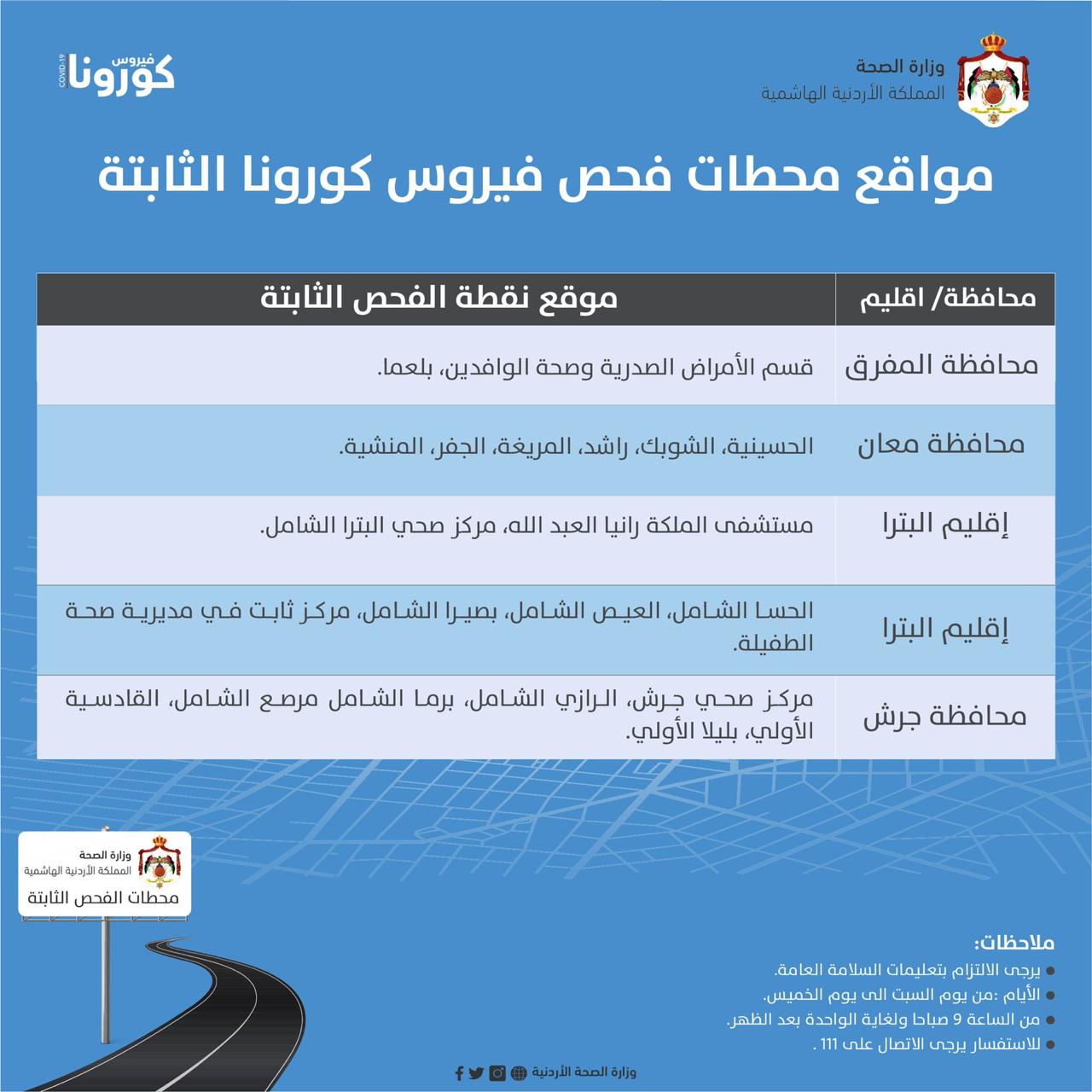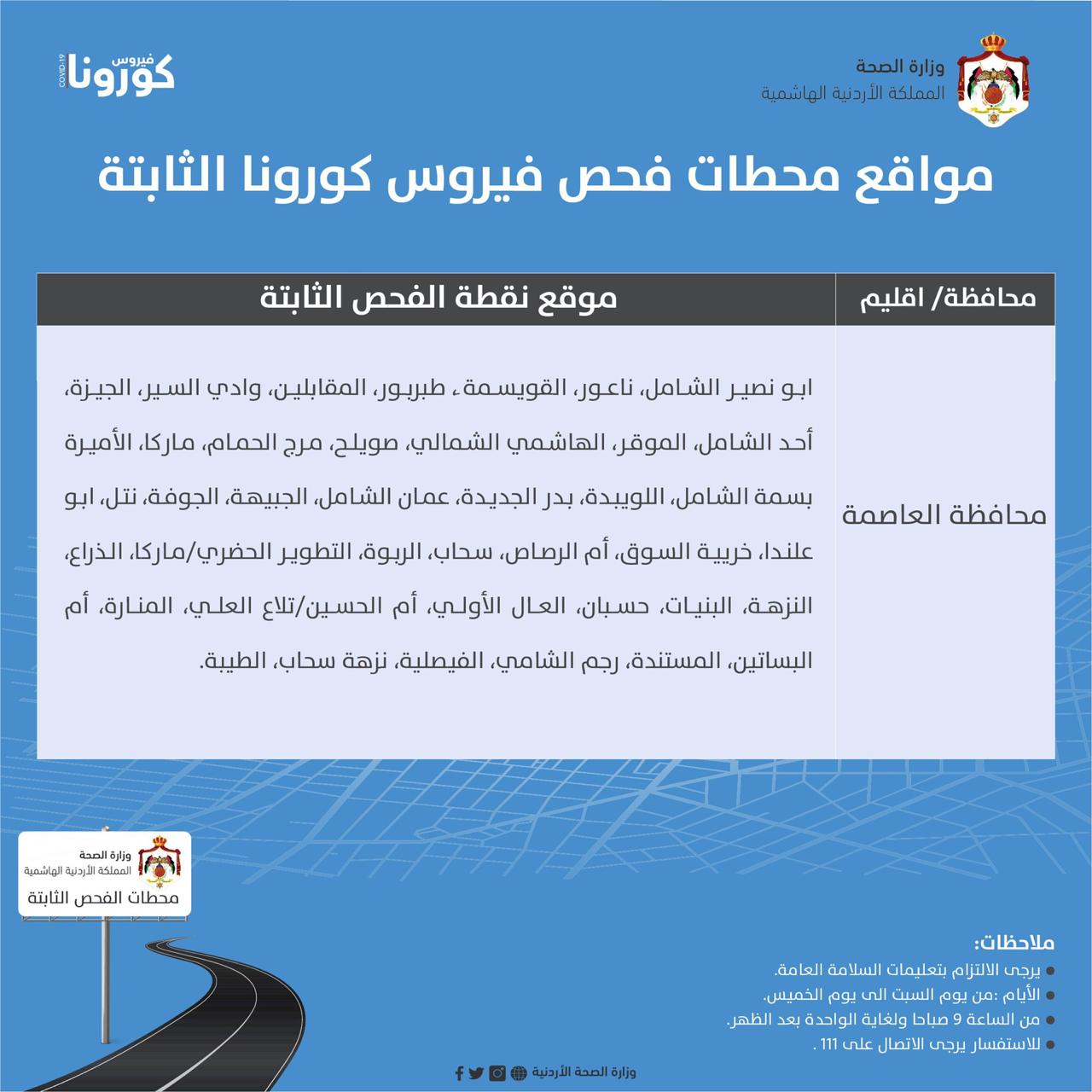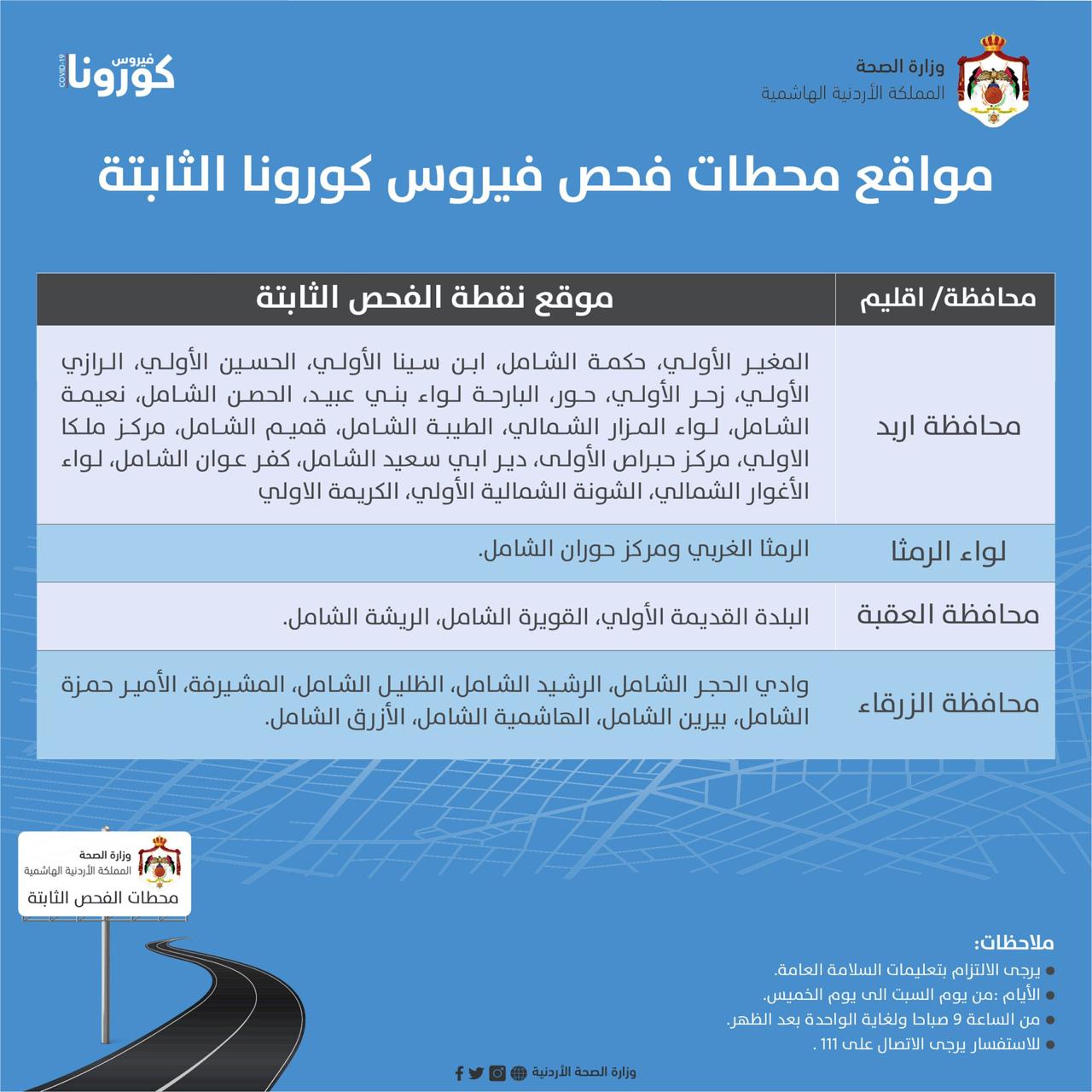 ---
Face Masks
Face masks: who should wear them? where should you wear them? and things to consider while using face masks to protect yourself during the corona virus outbreak in the posters below.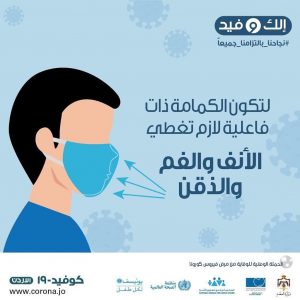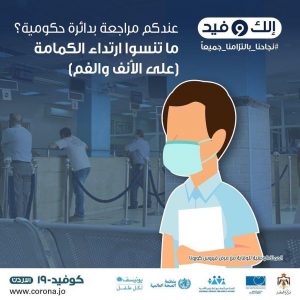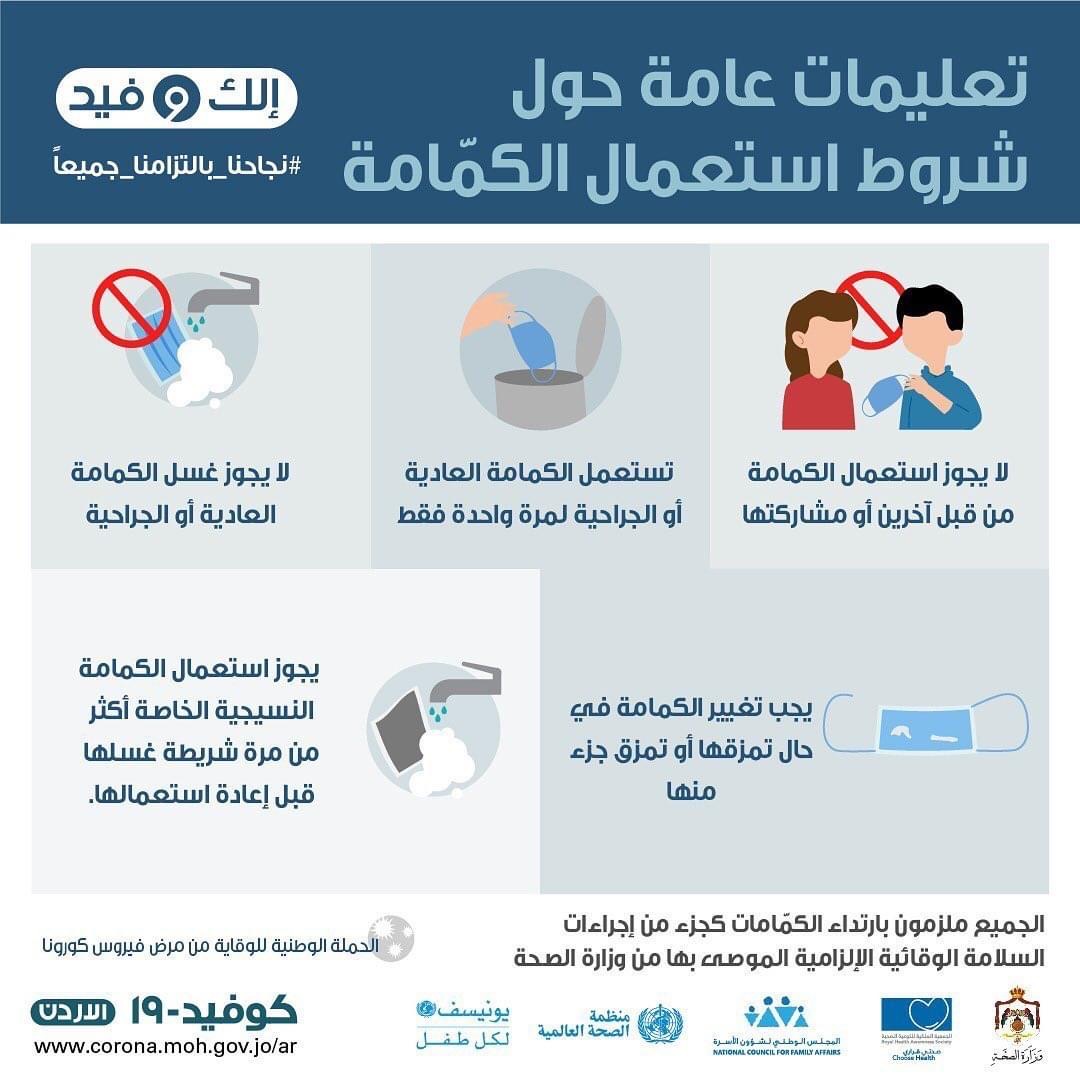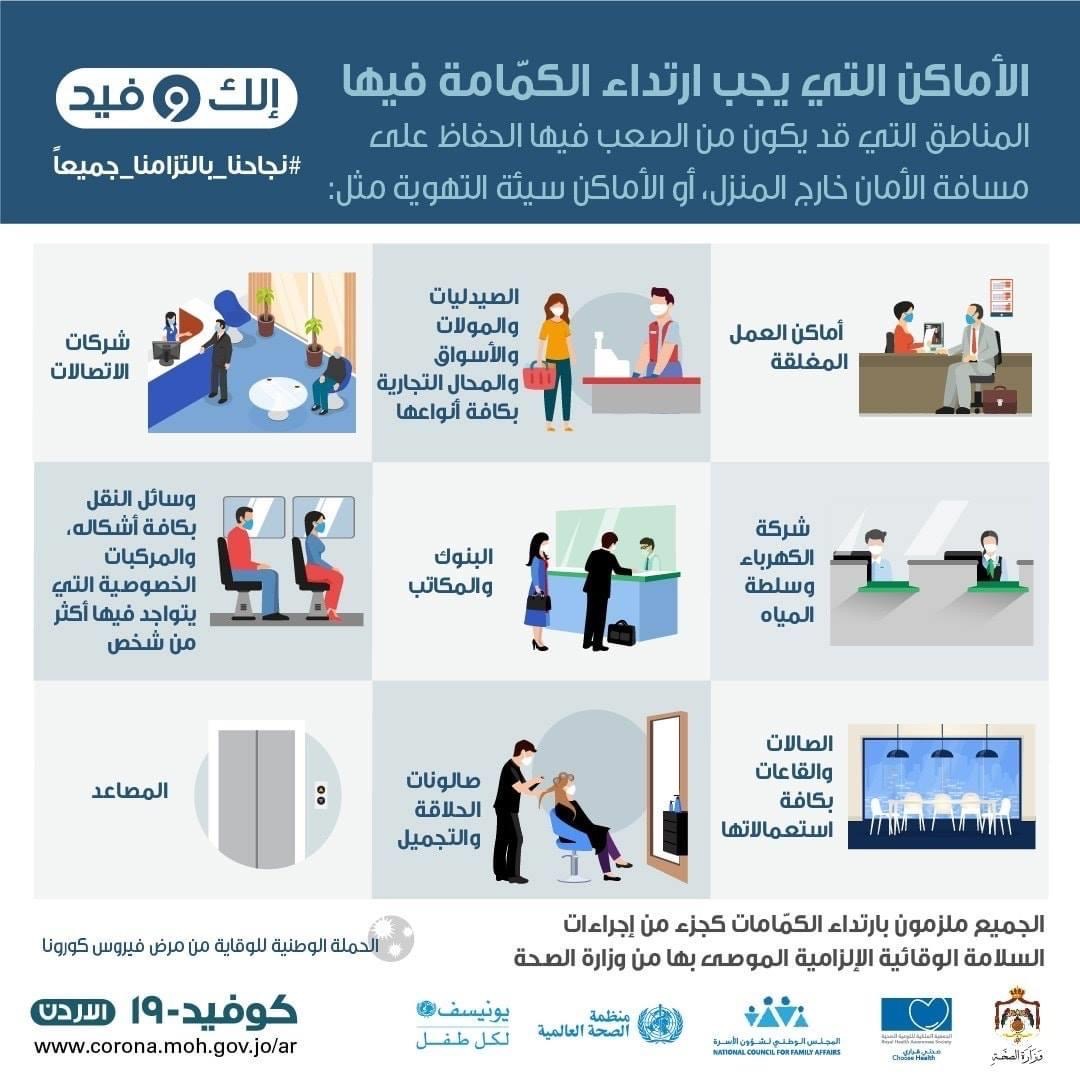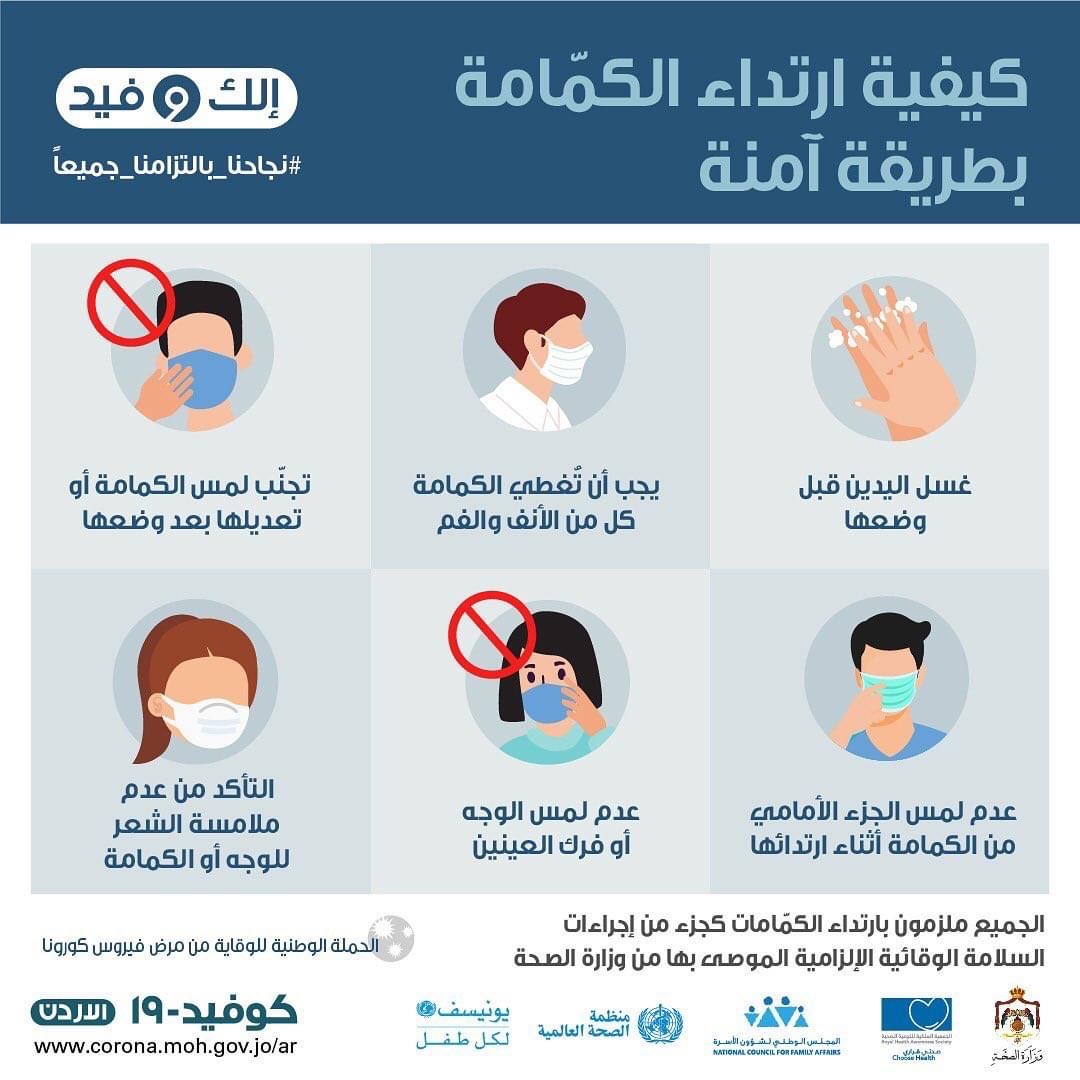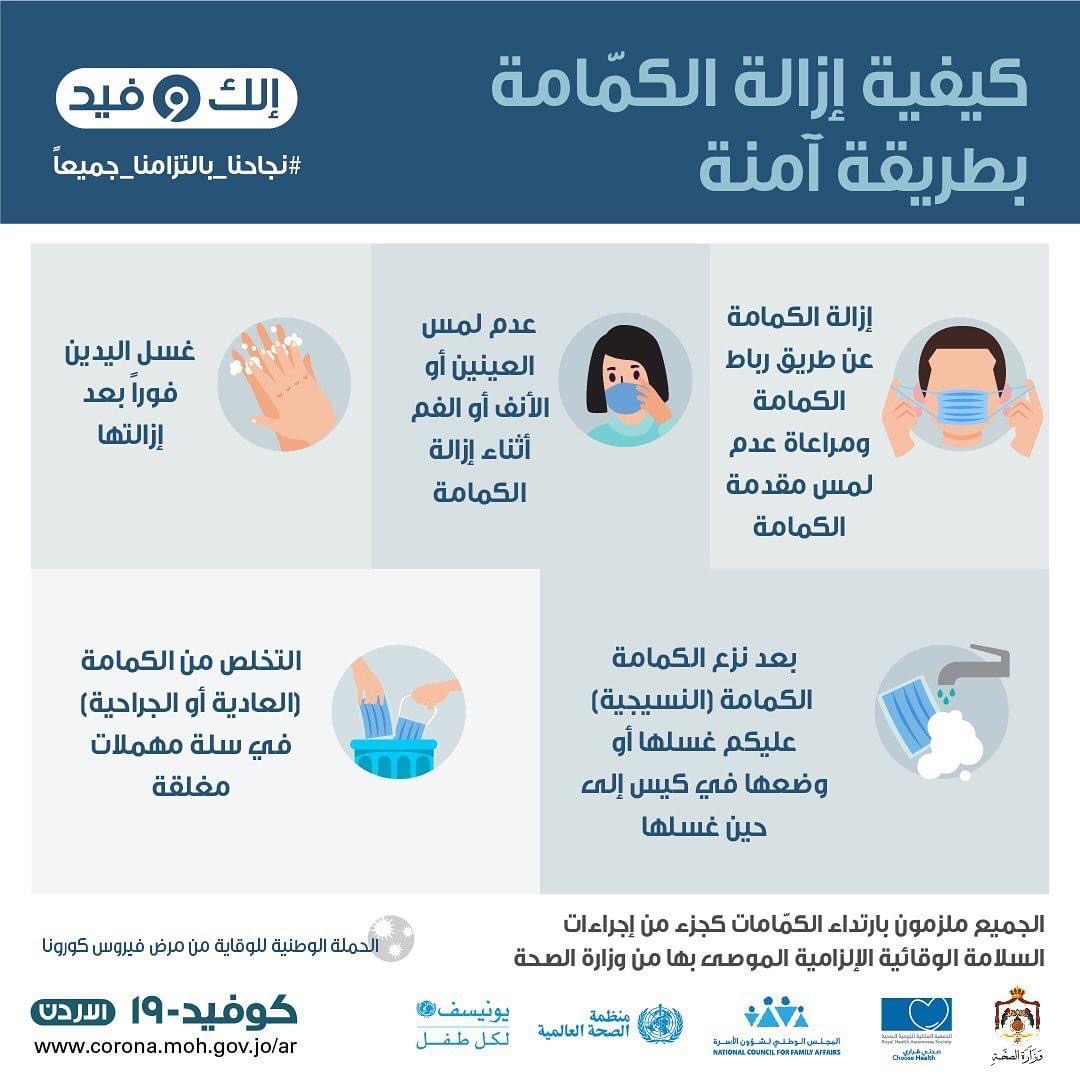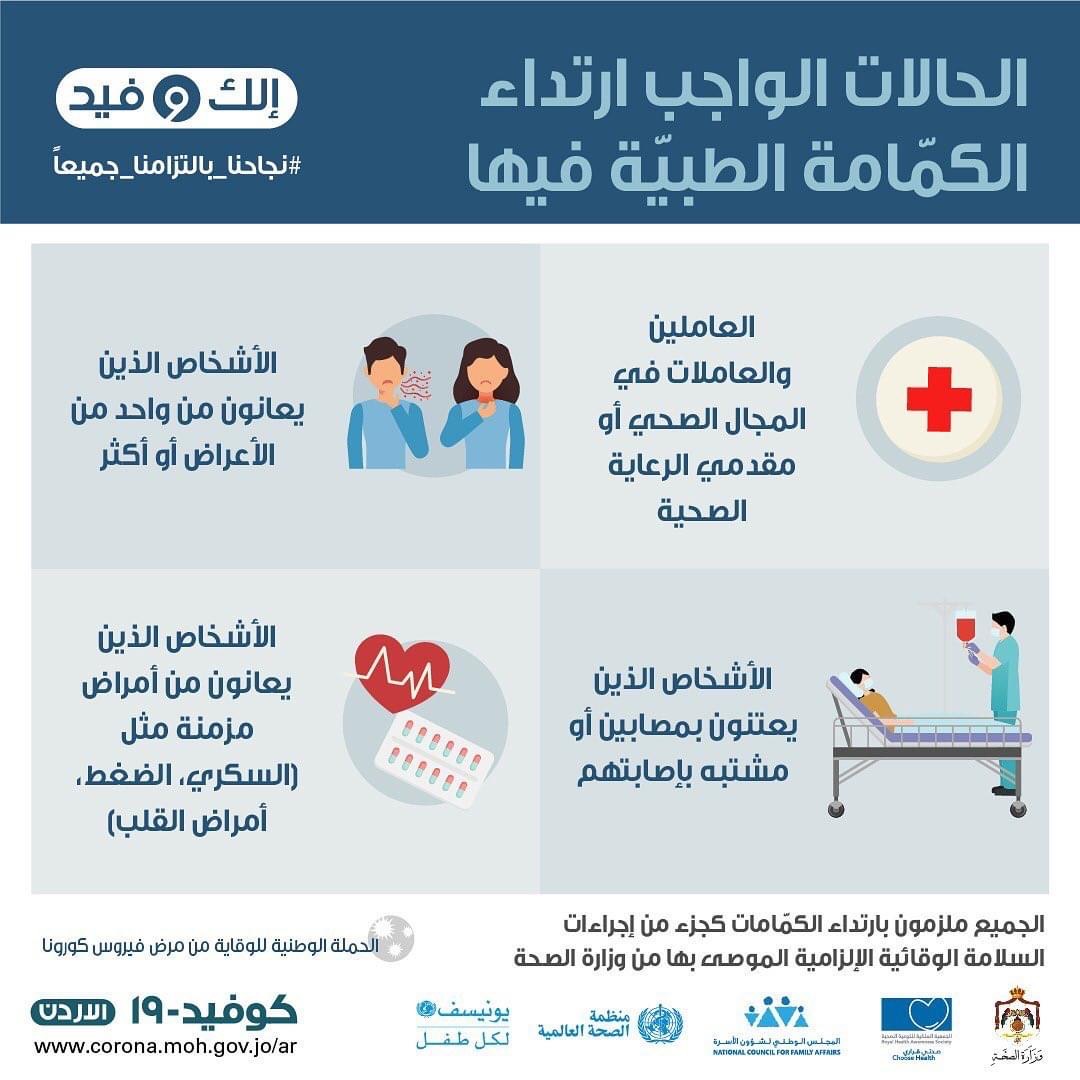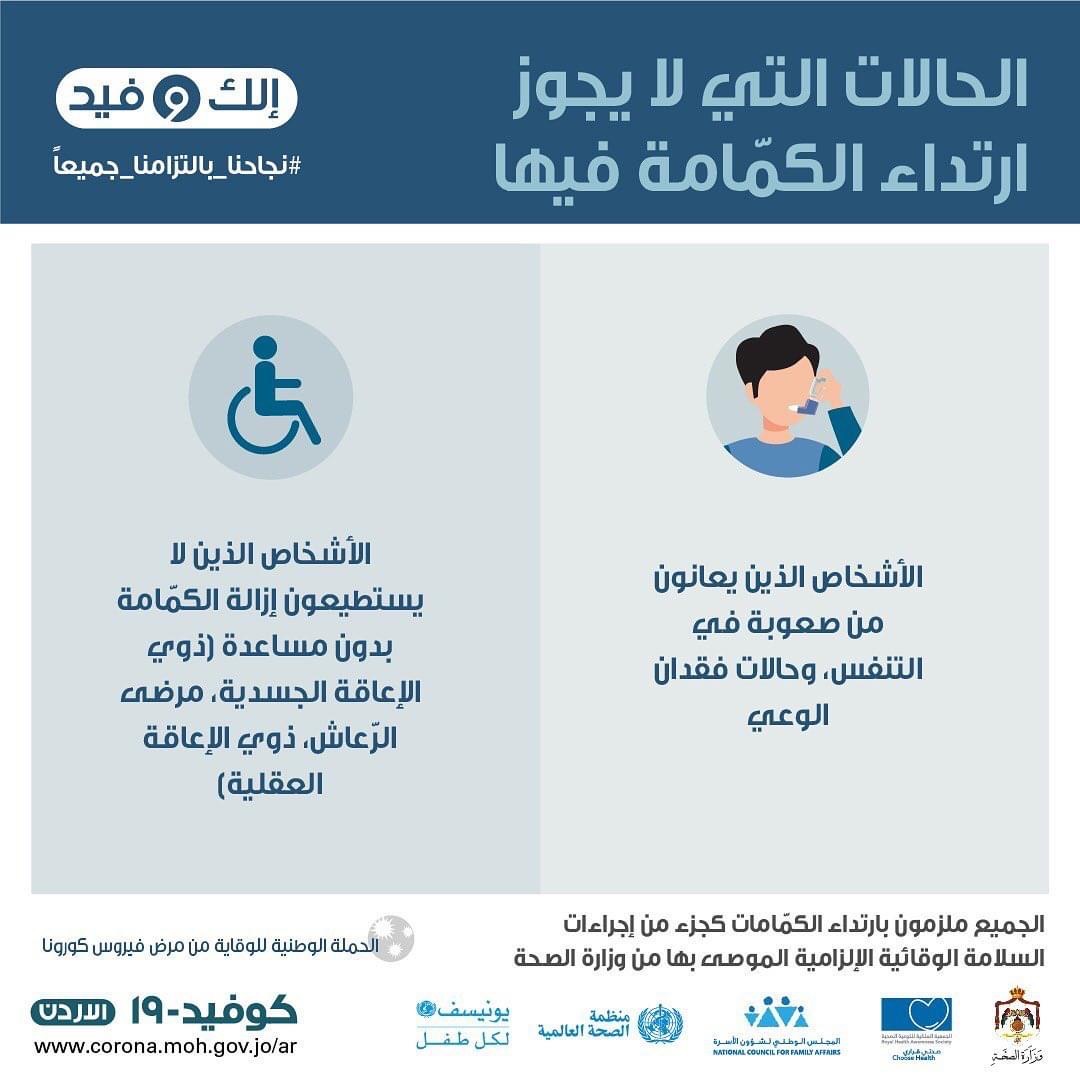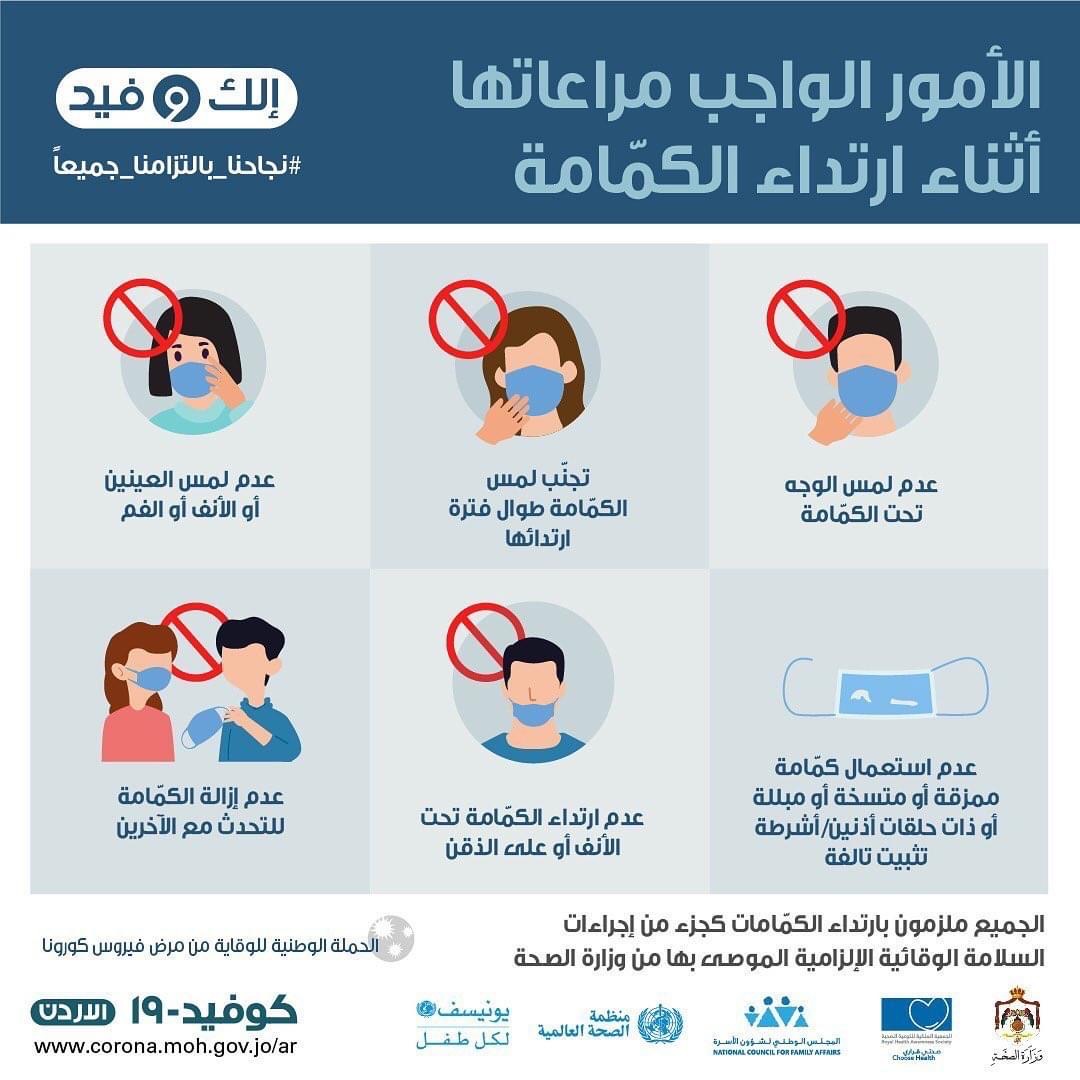 ---
If You Feel Sick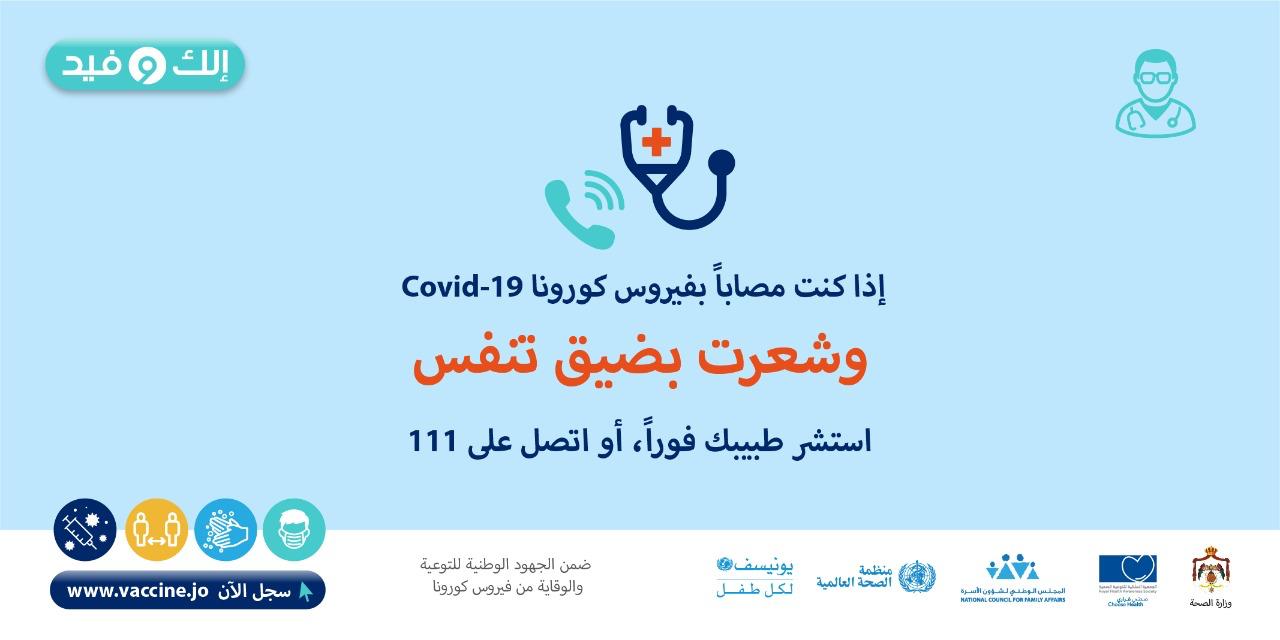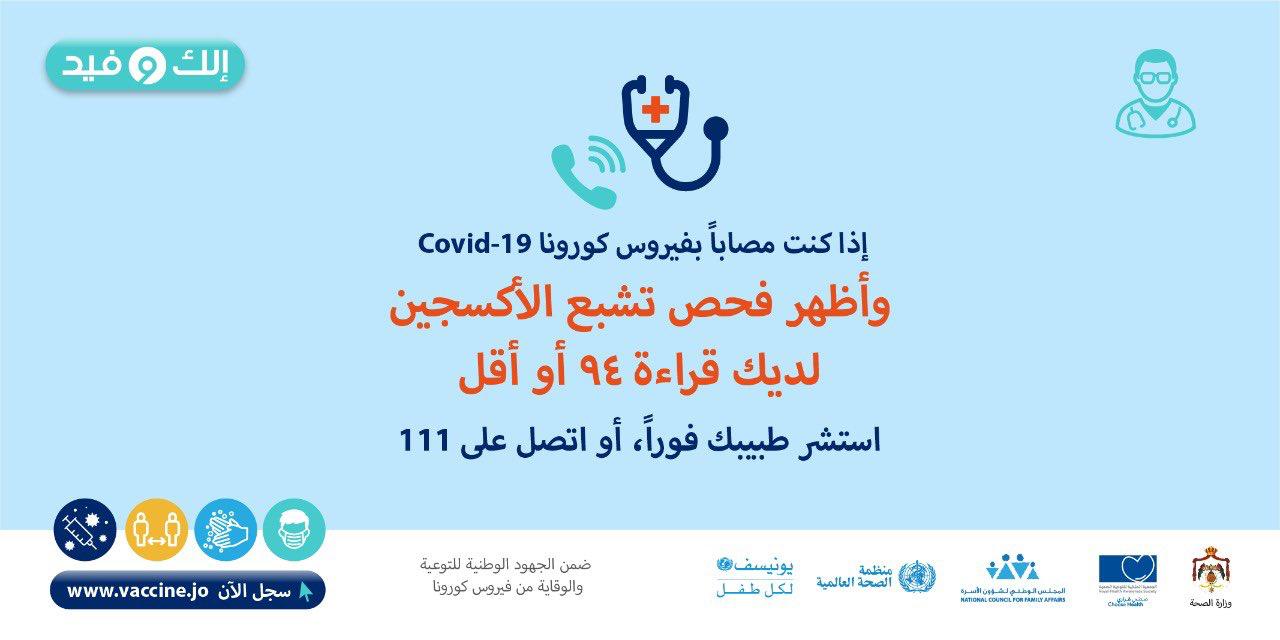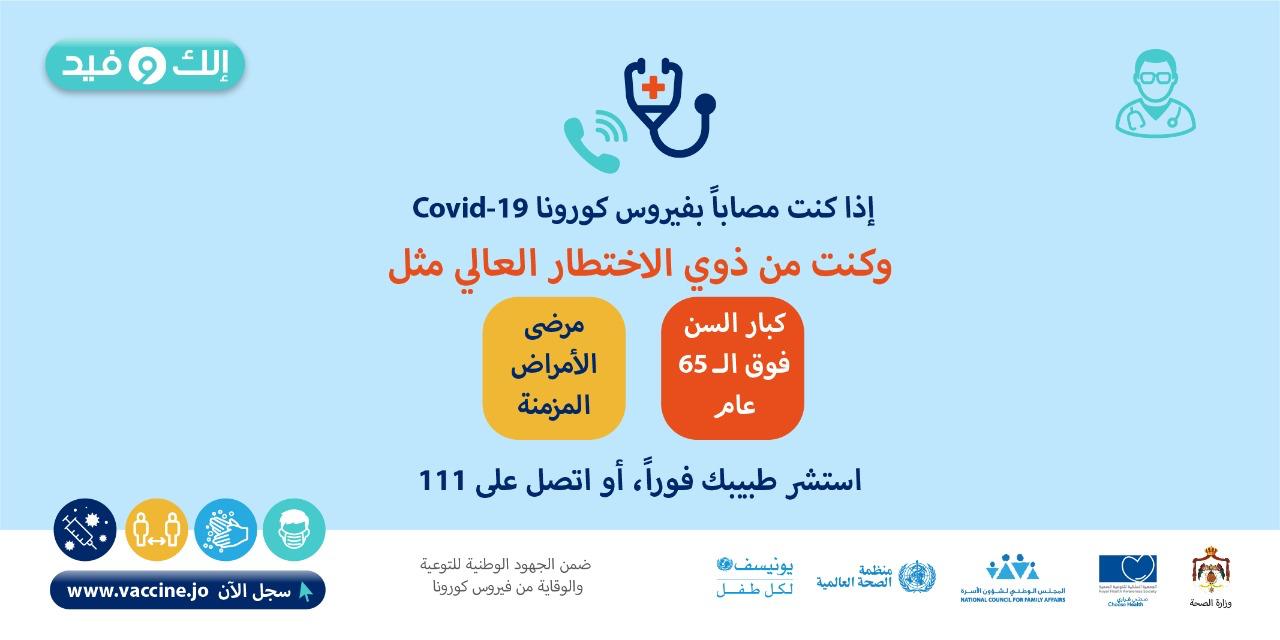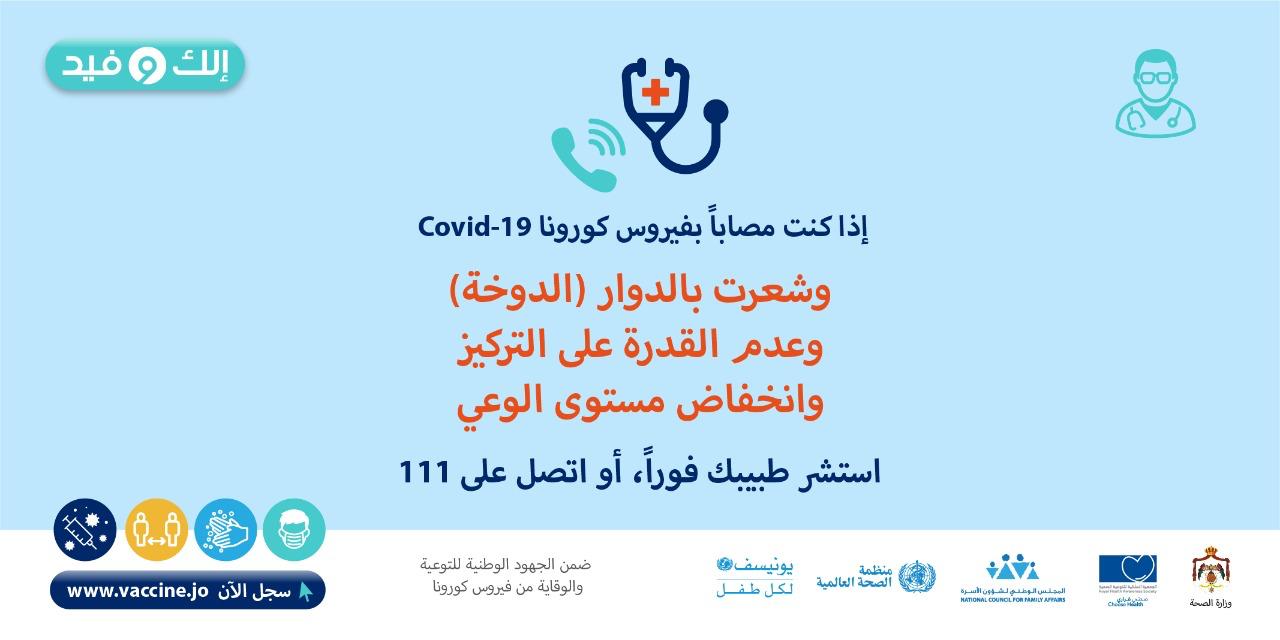 ---
Home Isolation Procedures
Below are some guidelines on the home isolation procedures to consider when infection with COVID19 is suspected or confirmed.