Enrolment into school can happen at any time during the year. The school year 2023/2024 started on 4th of September.
UNHCR in consultation with the Ministry of Education, Youth and Sports of the Czech Republic prepared a Handbook about Education in the Czech Republic.
The Handbook is available in several languages:
The following is a short guide to what the Handbook offers.
The Handbook also contains information on the following:
School calendar
Pupils' Evaluation
Study schedule
School subjects
School equipment
School meals
After-school club
Leisure activities
Home-school communication
Rights and obligations of school, parents, children
Educational options for adults
Recognition of education
What to do if … general questions and answers about schooling
NGOs contacts
Glossary
Attachments
---
➡️ Education system in the Czech Republic
The education system in the Czech Republic is compound from several parts as the graph below explains.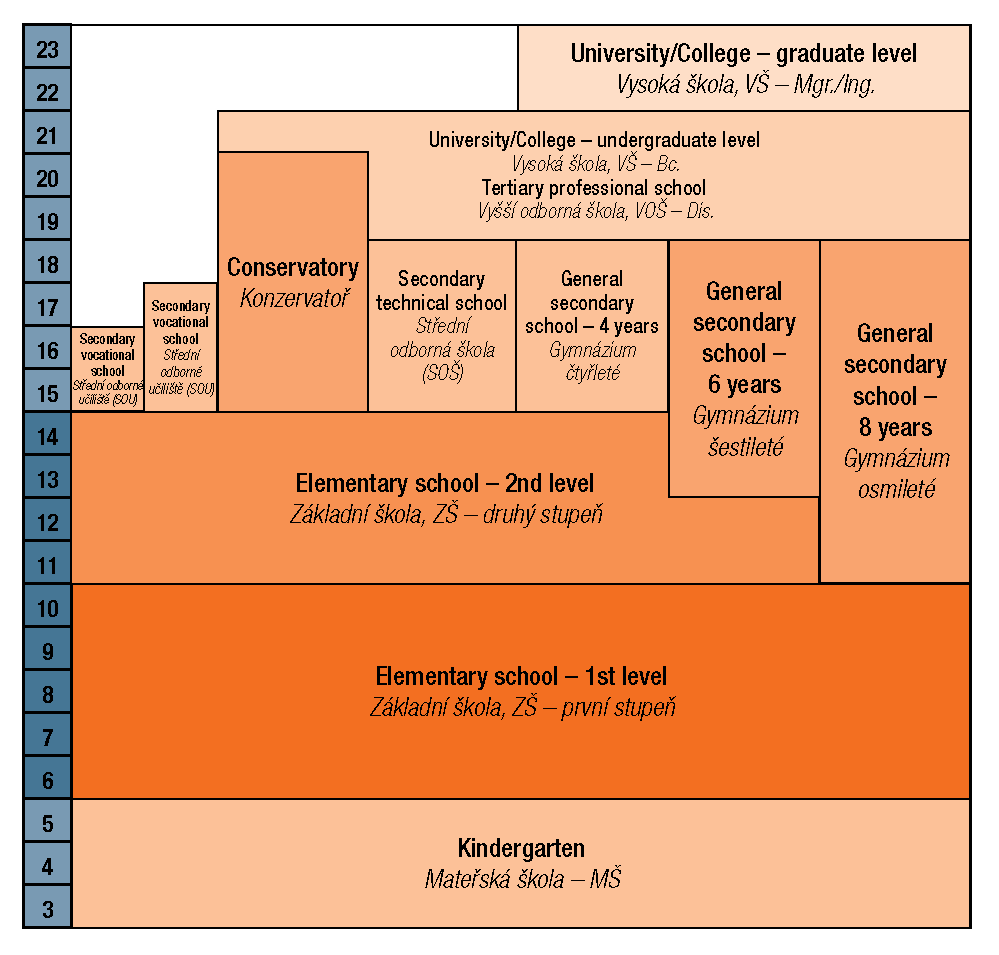 Compulsory school attendance lasts for 9 years in the Czech Republic. Pupils fulfil it in elementary schools when they are 6–15 years old and they may fulfil compulsory school attendance until they reach 17 years of age. Parents are thus obligated to send their children to school for at least nine years.  After reaching the age of 18, a pupil is no longer obligated to attend school even if he/she did not complete the obligatory nine years of school attendance. School attendance abroad counts towards compulsory school attendance in the Czech Republic.
Education of children with a different mother tongue – refugee and asylum-seeking children
Foreign (non-Czech) nationals have the right to receive free language education with a view to integration into the mainstream education system. Kindergartens provide language support to children with insufficient proficiency in Czech as part of standard activities and one one-hour course per week may be opened for such children. Newly arriving foreign pupils (within 12 months of arrival) in elementary schools are also entitled to free language support, which is provided to them in designated schools.
A temporary lack of proficiency in the Czech language is not a reason for a child to be placed in such an educational facility.
---
➡️ Children aged 2-6 years old
Kindergartens (mateřská škola/MŠ) offer education to children within the age range of usually 2 to 6 years. Children younger than 3 years have no statutory right to admission to a kindergarten. Kindergarten attendance is obligatory for children who reach the age of 5 years before the beginning of the school year. Each municipality must ensure that all children with permanent residence within its limits are able to attend a kindergarten. Kindergartens may charge fees for children's attendance. These include tuition fees (a few hundred CZK per month) and meal payments (approximately CZK 35–40/full day). In the last year before enrolling in an elementary school, children attend kindergartens at no charge.
Admission
Enrolment procedure for preschool education beginning in the subsequent school year takes place from 2 to 16 May. The principal of the kindergarten shall determine the date and place of the enrolment procedure in agreement with the authority establishing the kindergarten and shall publish the same in the customary manner. The principal of the kindergarten makes the decision on admitting a child to the kindergarten the duration of which shall not exceed three months. Children must be vaccinated in order to be admitted to a kindergarten. Kindergarten enrolment is also possible at any time during the school year.
---
➡️ Primary education – children 6-15 years old
Children aged 6–15 usually attend an elementary school (základní škola/ZŠ). Elementary schools have two levels: the first one comprises 5 grades, the second one 4. A certain percentage of children leave after the first level to continue their education at an eight-year secondary school/gymnasium or conservatory, or after the seventh grade to continue at a six-year general secondary school/gymnasium. By attending an elementary school, children also fulfil the statutory requirement for compulsory school attendance meaning one year in a preschool facility and nine years in an elementary school). Education at public schools is free of charge. Children fulfilling compulsory education are entitled to receive textbooks free of charge. Parents must defray expenses for their children's personal needs, certain additional teaching materials, courses outside of school, meals, afterschool clubs, etc.
School attendance is compulsory for a period of nine school years. This applies to:
the citizens of the Czech Republic and other European Union countries who stay on Czech territory for more than 90 days
foreigners who are authorised to stay on the territory of the Czech Republic permanently or temporarily for a period of more than 90 days and to asylum seekers.
Admission
An application form for the chosen school may be obtained directly at the school and often also on the school's websites. During the admission procedure, the school informally enquires about the child's school readiness. Primary education enrolment is possible at any time during the school year. Most schools place children according to their language skills and tend to place children in lower grades than appropriate for their age. However, practice has shown that age-appropriate placement proves to be the best alternative. Parents have the right to cooperate with schools and express their views on the grade placement of their children.
---
➡️ Secondary education
Secondary schools (střední škola/SŠ) follow up on elementary school education in the form of either a general secondary school (gymnázium), a technical school (střední odborná/průmyslová škola/SOŠ/SPŠ), a secondary vocational school (střední odborné učiliště/SOU) or a conservatory. Even though secondary school attendance is not compulsory, more than 95% of children choose to continue their education at secondary level. As with public elementary schools, education at public secondary schools is free of charge. General secondary schools offer their students general education, including preparation for university studies. Studies are completed by a secondary school leaving certificate (maturitní zkouška) and last for four years. Secondary technical schools offer professionally oriented education. Studies are completed by a secondary school leaving certificate and last for four years as well. Afterwards, graduates may continue studying at a university. Secondary vocational schools provide their students with professional and practical preparation, which is completed by a vocational certificate (výuční list). This certificate does not allow students to continue studying at a university. Studies usually take three years, exceptionally two years only. Conservatories offer education in art, specifically in music, singing, acting and dancing. Admission exams include an audition.
The four years of study are usually completed with a secondary school leaving certificate (maturitní zkouška), and the graduates may continue with tertiary education at a tertiary professional school, college or university.
Admission
The conditions for admission are the following:
completion of compulsory school attendance (i.e. nine years of education at primary school, or at a multi-year gymnasium)
fulfilment of the admission criteria/entrance examination
Admission procedures for secondary schools with a school-leaving certificate take place from 12 to 28 April, without a school-leaving certificate take place from 22 to 30 April. Foreigners who are subject to Section 20(4) of the School Act (they are not Czech citizens and they have obtained previous education in an international school) will, upon request, be exempted from the duty to take a universal exam in Czech Language and Literature. The level of their proficiency in Czech is verified by means of an interview.
If a student has already attended a secondary school abroad, he/she may transfer directly to a higher grade of secondary school in the Czech Republic. In order for a student to be admitted to a higher grade of secondary school, documents confirming the student's school attendance abroad have to be presented to the school. Persons who have been granted international protection may submit a solemn declaration instead of such documents (see Section 108(9) of the School Act).
---
➡️ Tertiary education
Professional school
Tertiary professional schools (vyšší odborná škola/VOŠ) provide further education to students with secondary school leaving certificates such as from general secondary schools and secondary technical schools. As opposed to universities, tertiary professional schools focus more on practical preparation. Studies last for three years, or 3.5 years in medical schools. Successful graduates receive the DiS. degree. Public tertiary professional schools may charge fees, the maximum amount of which for the individual programmes is defined by a regulation of the Ministry of Education (CZK 5,000 per year maximum). Fees at private tertiary professional schools are most often between CZK 20,000 and CZK 40,000 per year.
University
University studies are divided into two main levels – bachelor and master. A bachelor's degree (Bc.) usually lasts for three years, usually followed by an additional two years for a master's degree (Mgr. or Ing.). Studies at public universities in the Czech language are currently free of charge. However, students must bear the costs of study materials, accommodation, and board. Most universities, however, offer scholarship programmes for socially disadvantaged students. Some universities also offer postgraduate studies for master's degree holders, which prepare students for their future career in research. These programmes last for three or four years, and successful graduates obtain the Ph.D. degree).
Admission:
The minimum requirement is completed secondary education with a secondary school leaving certificate (maturitní zkouška). Most universities also require successful completion of the entrance examination. University applications need to be filed mostly by 31 March of the calendar year (some universities offer the possibility to file the application online). The contents of the entrance examination differ at individual universities.
Many public and certain private universities offer international students the option of preparatory courses in the Czech language for studying at a university. These courses usually take one year, and tuition fees amount to approximately CZK 100,000. Classes are taught every day and students with no initial knowledge of Czech achieve the B2 level (upper intermediate).
Some universities offer study programmes in English. Unlike with studies in Czech, however, these programmes are subject to tuition fees.
---
➡️ Education for children with special needs
Children, pupils and students with special educational needs (such as mental, physical, visual or hearing impairments, severe speech impairments, severe developmental learning disorders, severe developmental disorders, multiple faults or autism) are those who need to be provided with support measures in order to fulfil their learning potential or exercise their rights on an equitable basis with others.
Support measures:
are indispensable modifications to the education and educational services that are adequate to the health, socio-cultural background and/or other living conditions of the child, pupil or student
are structured into levels by organisational, educational and financial requirements
consist, e.g. in providing education or educational services on premises that have been structurally or technologically modified; using teaching assistants; using compensatory devices, special textbooks and special teaching aids; adjustment of the organisation, content, evaluation, form and methods of education; or adjustment of the expected results of education within the framework set in general educational curricula.
free of charge
The admission of the child, pupil, or student with special educational needs to special classes is subject to the submission of a written application by an adult pupil or student or the parent/guardian of the child or pupil, the recommendation of the school's counselling centre, and the congruence of this action with the child's, pupil's or student's interests.
More details in the Handbook for parents. 
---
🇺🇦 Specific situation - Ukrainian children
For Ukrainian children applies the following:
Facilities for children aged 2-6 and Primary education – the same legislative provisions apply as mentioned under the previous chapters on education.
According to valid Czech laws, all the children who were six and more years until 31/08/2023 must start compulsory school attendance at the latest after 90 days from obtaining the Temporary protection. Preschool year in kindergarten is mandatory for five-year-old children.
How To Do It?
Find the kindergarten or primary school (ages 6-15) depending in your place of residence.
Submit a written application at the kindergarten or school.
If they did not accept the child for capacity reasons, they will accept you contact the authorities and have to find a place for your child elsewhere.
You can read more here:
Migranti a migrantky | META, o.p.s. (meta-ops.eu)
Secondary education – the same legislative provisions apply as mentioned above. The application process deadline has already passed for school year 2023-24, for 2024-25 will be announced at the beginning of 2024.
The admission procedure differs if it is a for school with leaving certification or without:
Schools with leaving certification it always requires:
a) the Unified Entrance Examination (JPZ) run by CERMAT in the Czech language (if waived, an interview is held instead)
b) mathematics, it can be a school admission exam (details will be published by the school).
Schools without leaving certification – mostly based on primary school results, there may be a school entrance exam, for some fields, it is necessary to confirm medical fitness (the application will be confirmed for you doctor).
You can read more here:
What Field and School Are You Choose? Informační systém o uplatnění absolventů škol na trhu práce | Infoabsolvent.cz
CERMAT practice tests from mathematics also in Ukrainian: https://cermat.cz/
Admission exam adjustments for applicants with different mother tongue than Czech for the school year 2023/2024 | META, o.p.s. (meta-ops.eu)
For general information details described in leaflet in Czech and Ukrainian about the application procedure for 2023-24. Same procedure is expected for 2024-25.
Tertiary education
You can read more here:
Application process:
https://www.studyin.cz/plan-your-studies/how-to-apply/
Scholarships:
https://www.studyin.cz/plan-your-studies/scholarships/
https://www.studyin.cz/ukraine-scholarships/
Recognition of Ukrainian higher education and qualifications:
https://www.msmt.cz/vzdelavani/vysoke-skolstvi/zvlastni-informace-pro-zadatele-o-nostrifikaci-z-ukrajiny
---
➡️ If I need help
Find more information HERE.