Blue Dot- Safe Space, Protection and Support Hubs for refugees from Ukraine in Bulgaria
---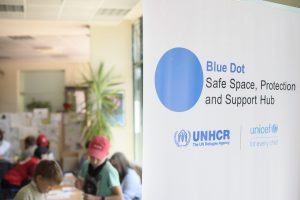 Background
Due to the international armed conflict in Ukraine, large-scale refugee movements were recorded across Europe. To address the immediate needs of the people fleeing from Ukraine, UNHCR, The UN Refugee Agency, and UNICEF, the UN Children's Fund, established the Blue Dot Safe Space, Protection and Support Hubs to provide critical support to children and families on the move, and assemble a minimum set of key services to refugees from a range of partners, under one neutral logo (The Blue Dot). They have become a recognizable trade of emergency assistance and have proven to be a good example of collaboration among partners namely UNHCR, UNICEF, local authorities and civil society organizations (CSOs). The Blue Dot Hubs are located in selected strategic sites - border entry/exit points, registration sites, and some strategic urban centres - and through mobile/outreach teams.
What support can refugees receive at the Blue Dots?
 Information and Advice Desks
Information and Advice Desks are where refugee families and their children as well as other people at heightened risks can find out information about the support and services available to them as refugees, including from host countries, humanitarian agencies, civil society organizations and other relevant partners.
Identification and Referral of Children and other Persons -at Risk:
Serves as a critical platform for the identification, assessment, documentation, and referral of vulnerable and at-risk individuals, including accompanied children with vulnerable or at-risk caregivers, unaccompanied and separated children, LGBTIQ+ people, older persons, persons living with disabilities, survivors of violence and persons living with serious or chronic illness in need of referral to specialized service providers.
Legal Aid and Counselling
Refugees are made aware of their rights in Bulgaria about registration, documentation, birth registration, family reunification, the procedure around the newly introduced temporary protection (Directive 2001/55/EC) and information on access to asylum procedures.
Child and Family Friendly Spaces:
Child- and family-friendly spaces, allowing refugees to play, rest, breastfeed or nurse their babies, and benefit from different services available in the Blue Dot, with separate spaces for young children and adolescents to meet their unique needs.
Mental Health and Psychosocial Support (MHPSS).
Counselling and psychosocial support for both children and parents or caregivers who may be facing considerable emotional distress or mental health issues. . Psychologists, social workers, and other trained professionals are on hand to identify children and other persons at heightened risk who might need further specialized support. Some Blue Dots in Bulgaria offer additional services like provision of medical first aid kit, some specific Non-Food Items (NFIs) and overnight accommodation.
Where can you find the Blue Dots in Bulgaria?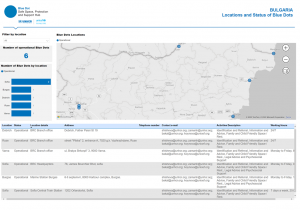 Border Crossing Points at Bulgarian border with Romania: ·        
Ruse
Address: 10 General Gurko Str. Ruse Google Maps Link Location:
ul. "General Gurko" 10 - Google Maps
Service: Information and Advice Desk, Family and Child Friendly Space, and Psychosocial support. Working Hours: 5 days (Monday to Friday; 8:30 to 17:30) Urban Locations: ·      
   Sofia Central Train Station
Address: 1202 Orlandovtsi, Sofia Google Maps Location Link:
Tsentralna Zhp Gara - Google Maps
Service: Information and Advice Desk, Working Hours:  18:00- 23:00 ·        
Bulgarian Red Cross Headquarters
Address: 76, James Bourchier Blvd; Google Maps Location Link:
Bulgarian Red Cross - Google Maps
Service: Full service Blue Dot (Information and Advice Desk, Family and Child Friendly Space, legal Aid and Psychosocial support); Working Hours: 5 days (Monday to Friday; 8:30 to 17:30) ·        
Dobrich
Address: Dobrich, Otets Paisii St 19 Google Maps Location Link:
Bulgarian Red Cross - Google Maps
Service: Information and Advice Desk, Family and Child Friendly Space, and Psychosocial support. Working Hours: Working Hours: 5 days (Monday to Friday; 8:30 to 17:30)
·         Burgas:
Address: Railway Station  Service: Information and Advice Desk, Family and Child Friendly Space, Legal Aid and Psychosocial support Google Maps Location Link:
Burgas - Google Maps
Working Hours: 5days (Monday to Friday; 10:00 to 17:00.) ·  
       Varna:
Address: ul, Bratya Shkorpil" 3, 9000 Varna/ Google Maps Location Link:
БЧК-ВАРНА - Google Maps
Service: Information and Advice Desk, Family and Child Friendly Space, legal Aid and Psychosocial support. Working Hours: 5days (Monday to Friday; 8:30 to 17:00.)